CD Review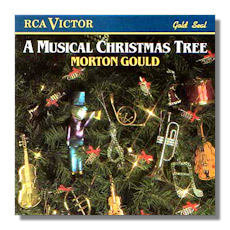 A Musical Christmas Tree
Morton Gould:
Home for Christmas 1
Serenade of Carols 1
Cinerama Holiday - Skiers Waltz 2
Burchfield Gallery - Winter 4
Ralph Vaughan Williams: Fantasia on "Greensleeves" 2
Piotr Ilyitch Tchaikovsky: The Nutcracker, Op. 71 3
Waltz of the Flowers
Waltz Finale & Apotheosis
Franz Xaver Gruber: Silent Night 1
Henry Walford Davies: O little town of Bethlehem (arr. Gould) 1
James S. Pierpont: Jingle Bells (arr. Gould) 1
John Francis Wade: Adeste fideles "O come, all ye faithful" (arr. Gould) 1
Katherine K. Davis: The Little Drummer Boy (arr. Gould) 1
William J. Kirkpatrick: Away in a manger (arr. Gould) 1
Richard Storrs Willis: It came upon the midnight clear 1
Traditional (arr. Gould):
Little David, play on your harp 2
Good King Wenceslas 1
The first nowell 1
1 New Philharmonia Orchestra/Morton Gould
2 Morton Gould Orchestra/Morton Gould
3 Chicago Symphony Orchestra/Morton Gould
4 American Symphony Orchestra/Morton Gould
RCA Victor Gold Seal 7931-2-RG 67:22
Summary for the Busy Executive: Myrrh, frankincense, and Gould.
Besides enjoying the status of a prominent American concert composer, Morton Gould made a great living as an arranger and producer of pop "concept" albums. This is his Christmas album.
I suppose we should call this "light music," but you can find such things at all sorts of weights. Major composers, after all, have written light music. Stravinsky has his Circus Polka, written for Ringling Bros., as well as The Rite of Spring. Beethoven composed both the "Rage over a Lost Penny" and the Waldstein sonata. Prokofieff has Peter and the Wolf and Roméo and Juliet. Elgar pursued a substantial career as a supplier of light music, while he was writing symphonies, oratorios, and concertos. None of this is dreck. Often, it means simply that the composer aims at goals more modest than scaling Parnassus.
From his days at Radio City Music Hall and on the radio during the Thirties and Forties, Gould had mastered this form and indeed could create in full score at high speed, often overnight. None of these arrangements and pieces resemble, let's say, the syrupy confections you get from the CD bins at your local supermarket. A real composer, as opposed to a hack, is at work here.
What do you get when a good composer confects arrangements on well-known tunes for reasons other than expressing his most profound emotions? In Gould's case, you discover an individual ear for beautiful, telling orchestral sonority, a quirky mind, and lots of playful counterpoint. The Serenade of Carols, the "Winter" movement of Burchfield Gallery, and Little David I find the most substantial originals. The Serenade consists of four discrete sections each of which plays with several carols but in a coherent way. Gould works with familiar and not-so-familiar tunes. One tune per section escaped me, and I flatter myself that I know a lot of carols. Burchfield Gallery, inspired by the paintings of Charles Burchfield, hums with energy, just as the artwork does. In "Winter," the air and icicles seem to vibrate. One feels the clean, crisp cold. Little David is misnamed, since the spiritual doesn't appear. Instead, the composer knits the Easter spirituals "Calvary" and "Mumbling Word" in a heavy lament. I have no idea why this is on a Christmas album, and I don't care why. It's great to hear it at all.
The performances vary in quality. I don't hesitate to call those of the lovely Vaughan Williams Fantasia on "Greensleeves" and the sumptuous Tchaikovsky excerpts the least successful. The Tchaikovsky isn't terrible, but you have a million other performances to choose from, including those of Ormandy, Doráti, Beecham, Abbado, Stokowski, Toscanini, Mackerras, and Previn. Gould's Vaughan Williams counts as an interesting failure. I believe he is trying to shape a "vocal" performance of the piece, but the orchestra fails to follow him with any grace. The work falls apart.
But these are merely three tracks among a generous selection. Gould continually surprises you with his takes on these chestnuts and yet never descends into the merely bizarre. This was a supremely musical composer. I'm not a big Christmas-album buff myself, but this counts as one of my favorites.
Copyright © 2010, Steve Schwartz.