Related Links
Recommended Links

Site News
CD Review
Bach | Schnittke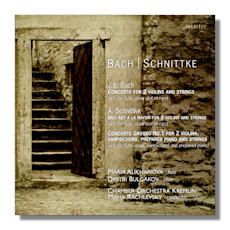 Arrangements
Concerto in D minor, BWV 104
Alfred Schnittke:
Moz-Art à la Haydn
Concerto Grosso #1
Maria Alikhanova, flute
Dmitri Bulgakov, oboe
Chamber Orchestra Kremlin/Misha Rachlevsky
Quartz QTZ2083 52min
Johann Sebastian Bach and Alfred Schnittke may not immediately appeal as common bedfellows, yet on closer scrutiny there are many important parallels between the works on this issue.
Alfred Schnittke (1943-1998) was absolutely fascinated with Europe's musical heritage, particularly that pertaining to the Baroque era, and throughout his career he learned to assimilate these earlier styles to create his own particular brand of "polystylism". When he composed his famous Concerto Grosso #1 it was evident that Schnittke was under the influence of such composers as J.S. Bach, Vivaldi and many others from this most productive age, so what better way to illustrate Baroque pastiches than by recording it alongside a piece from that era.
Another factor that also unifies this programme is the theme of arrangement. Indeed, Bach had a wonderful gift in re-working music for different musical combinations, and this disc sheds new light on both his music and that of Schnittke, by highlighting their works in fresh transcriptions. In Bach's Double Concerto, pairs of violins are transplanted by flute and oboe, and in Schnittke's "Moz-Art à la Haydn" for 2 Violins and Strings, the same two instruments again take centre stage. The Concerto Grosso #1 is also transcribed for flute and oboe, but the harpsichord and that modernist staple, the prepared piano, also make their bow.
Performances are nothing short of electrifying, and all throughout the programme that professional touch of ensemble is never sacrificed for excessive showmanship. This is an unusual issue that deserves serious investigation, notwithstanding Schnittke's difficult yet wholly stimulating music. Sound and presentation are first-rate.
Copyright © 2011, Gerald Fenech