CD Review
The Stokowski Legacy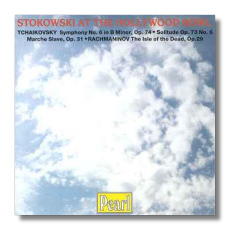 Hollywood Bowl Recordings
Sergei Rachmaninoff: Isle of the Dead *
Symphony #6 "Pathétique" **
Solitude (orch. Stokowski) **
March Slav ***
Hollywood Bowl Symphony Orchestra/Leopold Stokowski
*23 July 1946, **25 July 1945, ***1 August 1945
Remasterings by Mark Obert-Thorn
Pearl GEMM 9261

Leopold Stokowski Society CD0506" src="../../images/c/cal00506.jpg" />
* New York City Symphony Orchestra/Leopold Stokowski
Hollywood Bowl Symphony Orchestra/Leopold Stokowski
10 December 1944 & 25 July 1945
Cala/Leopold Stokowski Society CD0506 Mono
I actually received the Cala disc a couple of months ago. At that time I wrote the following:
The front cover is a reproduction from the 78s issued containing the Tchaikovsky. The Pathétique is one of my favorite symphonies. It is very delicate, however, too much or too little emotional an interpretation can ruin the whole thing. My favorite recording always was the stereo version, one of his last recordings for RCA. Another I like a lot is the pre-war Furtwängler. Two more different interpretations, however, can hardly be imagined. Furtwängler hears the Pathétique in symphonic terms. With Stokowski you are always aware of the ballets. This Cala issue, in lieu of the later one (the All-American Youth Orchestra version has never been available on anything other than 78s…how about that one, ED??) is one of the best, too. The transferred sound is well done, offering a nice sound stage and just the right amount of reverberation. The Strauss (which Stokowski insisted translating as 'Death and Illumination' is also classic. While I prefer the Philadelphia recording (once available on a two disc Strauss box from RCA) to my knowledge it is not currently available. Recommended.
Pre-Post Script: I just yesterday got a letter from a friend whose opinion I respect in these matters. I sent him tapes of both recording of the Tchaikovsky 6th. Here are his comments: "The version of the Tchaik. #6 which you sent me is very, very poor in my judgment as compared with the version you sent a short while back (the Cala release). The present version (the Pearl) highlights some things but lacks depth or solidity and is not always clearly done - it is not in the same league with the prior version."
I present the above information as an introduction because my opinion differs now from both of the above. This is what I wrote after first receiving the Pearl CD:
Okay, let me get this off my chest at the outset. There may be readers out there in cyberland (or real earth if you're reading this Net review in a print medium) who are thinking, "just what we need, another Stokowski Pathétique. Well, you see that is one of the endearing qualities of listening to Stokowski recordings. He was unpredictable and different recordings reveal differing ideas the Maestro had. The most stunning example is Stokowski's recordings of Tchaikovsky's 4th Symphony. He recorded it commercially with the Philadelphia, the NBC and the American Symphony. You can also hear a live performance with the Japan Philharmonic from 1967. What is stunning is how different each performance is even though the Stokowski stamp is still on each of them. So it is with this disc in many, different ways.
Now, I've got good news and bad news. The good news is that the Pearl disc provides the best transfer of the HBoston Symphony Orchestra recording of Tchaikovsky's Pathétique ever, in any medium. The bad news is that if you already have the Cala issue, you need to supplement it with this one. (On the other hand, read the comments at the very end of this review.)
First, however, the Rachmaninoff. This CD would be worth the investment just to hear Stokowski's way with this music. He never recorded it commercially, so it's a chance to hear him in a composer Stokowski loved. It is also another chance to hear a live performance to hear if you can discern any inherent differences with studio recordings in Stokowski's career. Frankly, I have found that Stokowski was apparently at home in a studio as well as in the concert hall. The ability to inspire seemed to transcend the medium.
My personal favorite recording of The Isle of the Dead has been Reiner's with the CSO (RCA 61250). For a short time, when he came to America, Reiner worked with Stokowski in Philadelphia. Listening to the two recordings you can hear the Stokowski influence on Reiner. The two however, are also poles apart, even though their timings are within 19 seconds of one another. First, of course the Reiner sounds better. It is stereo and the fact that it is a studio recording affords cleaner detail. The Stokowski is from a live performance and details sometimes get submerged.
As to performance, let's take just the opening minute of each. Reiner's is more restless, slightly faster. The detailed recording adds to this effect. The Stokowski is more sinister, darker. One way this is achieved is in the horn solo at about a minute into the opening. The Reiner is definitely a horn playing the solo. When I first heard the Stokowski recording I thought maybe it was an oboe or a clarinet purposely playing out of tune. Then, after repeated hearings, I realized it was a "muted" horn playing the melody. What a difference this little matter made!!! This is part of realizing the Stokowski legacy which you glean by adding this piece to your collection.
Now to the Pathétique. Stokowski recorded this three times in his life The first, a 1940 recording with the All-American Youth Orchestra, has yet to be released on anything but 78s. This 1945 issue has been on LP and now two different CD issues. The last, 1973 recording has just been issued on CD. There is also an unbelievably powerful performance with the London Symphony from a live concert preceding the stereo recording (on Music and Arts CD 944).
When I reviewed the Cala release of this work, I praised it highly and gave it a 5 Star rating on my CDiscography of Stokowski recordings. Listening to this has caused me to remove it and award it to this recording. Why?
Well, as near as I can tell, for one reason: Mark Obert-Thorn. Whether it is his remasterings or a difference in recording level, but this Pearl issue is…well, let me put it this way; I have wondered, at times, if this Pearl issue isn't a different recording. The sound on Pearl is sharper, more detailed. The bass line is deeper and more defined. It is as if someone had taken a veil off of the Cala issue an rendered it new. It is more involving as a result of all these things. If the excellent is the enemy of the good, this Pearl issue is the excellent.
Does this all differ significantly from the other available recordings of Stokowski's Pathétique? Well, to some extent comparison is not really comparable. Almost 30 years of recording technology separate th last two. Also, I have yet to hear the CD mastering of the stereo recording as yet. The live performance is a must (from Music and Arts) and not just for Stokowski-files (damn is it powerful!) So, this Pearl disc offers an additional two reasons to get it: it is a different "sound/transfer" of a powerful performance and also significantly different from the live/commercial recordings.
Still, how does Stokowski's Pathétique offer anything different from other conductors of this period? Well, let me be personal with you. I 1980 a high school senior I was very close to took his life. That night I listened to the final movement of the Tchaikovsky 6th, Stokowski's stereo LP recording, many times. I do not like the Toscanini recordings, I do like the Furtwängler. Stokowski is dark, at times perhaps a soupcon melodramatic. I am having a somewhat difficult time trying to describe my reactions to this recording.
The fill ups, well they are icing on the cake. No one would buy this disc just for these items. Yes, they are vintage Stokowski, and they also have a 'period' difference that will give you more insights to the Stokowski legacy. On the other hand, you don't need to add this disc just for the fillers. The Rachmaninoff and the Pathétique should be in any collection, especially those who are Stokowski fans.
(You know, I hope I don't sound too negative about the Cala issue. It really is good and includes the Death and Illumination (as Stokowski insisted on putting it) by Strauss. If you already own the Cala you may find that you disagree with my assessment of the sound of the two issues. If so, I welcome your comments.)
Another ray of sunshine to close this review, Cala's next release (Brahms Symphony #1 with the HBoston Symphony Orchestra) is soon to be released. It also includes another release of historical interest, Stokowski's recording of the Schubert Unfinished with the All-American Youth Orchestra. This orchestra was also poorly represented in current format until the Leopold Stokowski Society of America released some discs. The best news, however, is that Mark Obert-Thorn has done the remasterings.
Post Script: Today the 14 CD set of all of Stokowski's stereo RCA recordings arrived for review. This contains the stereo Pathétique referred to above. Talk to you later.
We sometimes read reviews and make decisions based on what that single person has said. I am only reporting how I reacted to these two releases. I also meant to mention in the Pre-Post Script that I have been informed that the Cala issue was taken from vinyl pressings taken from the original metal masters. I report, not just review. Get them both.
Copyright © 1995, Robert Stumpf II