Related Links
Recommended Links

Site News
CD Review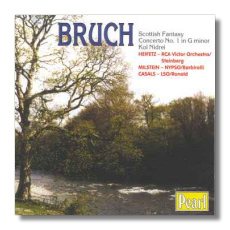 Violin Concerto #1 in G minor 1
Scottish Fantasy 2
Kol Nidrei 3
1 Nathan Milstein, violin
2 Jascha Heifetz, violin
3 Pablo Casals, cello
1 Philharmonic Symphony Orchestra of New York/John Barbirolli
2 RCA Victor Symphony Orchestra/William Steinberg
3 London Symphony Orchestra/Landon Ronald
Pearl GEMM0051 ADD monaural 61:17
This excellently devised CD gives collectors the opportunity to have Max Bruch's three most famous works on a single disc, and in vintage performances that not even the same soloists were able to surpass in the coming decades. Furthermore, Roger Beardsley's transfers are startlingly good; it is easy to forget that the original recordings are at least more than half a century old.
This is a fascinating opportunity to compare Milstein and Heifetz. The former was in his late 30s when he recorded the Concerto #1, and the latter was in his middle 40s for the Scottish Fantasy. They were at the peak of their techniques. Milstein's takes an olympian view of the concerto. His tone is like white ivory, and he seems to be playing on a pedestal made of the same material, smiling down at his listeners with a beneficent expression. Nothing is cloying about this interpretation, and yet it is filled with sweetness and song. Barbirolli and the group that later was known as the New York Philharmonic make a positive contribution. In fact, perhaps their playing is a little more incisive than Milstein's, so the contrast is to good effect. This recording was made in 1942 and originally released on three Columbia shellac discs. For some reason, these 78s never were released in the United Kingdom.
The Scottish Fantasy was recorded for Victor in 1947; it also had limited export release in its original three-disc 78rpm format. In some ways, Heifetz's croony tone made him the Sinatra of the classical violin, and that tone can be heard at its best in this recording. Heifetz seems to be in some of sort of rapture throughout, although I think it's rather unlikely that he had any Scottish blood in him! He doesn't dig too deeply into the music, but what a lovely exploration of its surface! Darker colors are put aside in favor of a pervasively moody atmosphere. Steinberg is a more interesting conductor than Sir Malcolm Sargent would be in Heifetz's later recording.
Casals's Kol Nidrei is a familiar jewel, and its inclusion here is a bonus. He and the conductor paint the music in the most soulful and sensitive colors. The cellist's self-effacing manner helps him to penetrate Bruch's spiritual masterpiece. This recording was made for HMV in 1936.
Copyright © 1999, Raymond Tuttle