CD Review
Aaron Jay Kernis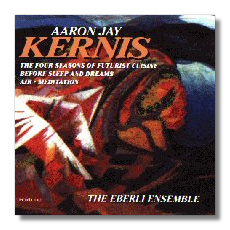 Before Sleep and Dreams
Air Meditation
Le Quattro Stagioni della Cucina Futurismo
The Eberli Ensemble
(Evan Spritzer, narrator & clarinet; Michael Finckel, cello;
Andrea Schultz, violin; Evelyne Luest, piano)
Phoenix PHCD142 DDD 65:24
Again, my reaction to the music of American composer Aaron Jay Kernis (born in Philadelphia in 1960) is astonishment – he is that good. This collection of chamber music, written over the course of more than a decade, shows Kernis composing in a number of different styles with consistent creativity and artistic success.
The earliest work on this disc, Meditation, was written as a response to the shooting of former Beatle John Lennon. I had to read Kernis's annotations to discover that this work, for cello and piano, is based on "the tonal harmonies and melodic shapes of Lennon's beautiful song Imagine." Meditation sounds like parts of Messiaen's Quartet for the End of Time – specifically, the rapturous fifth movement – but recomposed along even more static (yet emotionally gripping) lines.
Before Sleep and Dreams, written in the late 1980s, is a suite of five piano pieces that purports to depict a small child's getting ready for bed. Kernis looks deeply into his material and sees that sleep is death's brother, and the music's innocence is tempered by the realization – although it is not made explicit – of darker colors and more existential thoughts. Kernis's piano writing is marvelously distinctive, and full of rhythmic and harmonic interest.
The Four Seasons of Futurist Cuisine (to use its English title) is an outrageous work first performed in 1991. Scored for violin, cello, piano, and narrator, it's a setting of Italian artist F.T. Marinetti's "cookbook" cum artistic manifesto. In these texts, Marinetti seems to be asking, "What should our gleamingly efficient new art taste like?" The result is brilliantly surreal – a synesthetic banquet, if you will. Kernis leaps into the fray with both feet, composing music that is at times fiery, at times tender, but never far from nose-thumbing mockery. He has a great deal of fun quoting other composers – everyone from Bruckner to Chopin – but no matter how absurd it all seems, perhaps Kernis is saying that the right combination of familiar ingredients can give rise to the most wonderfully unfamiliar stews. This would be a wonderful dinner-theatre piece.
Air is the most recent work on this CD. Joshua Bell already has recorded it for Argo in its version for violin and orchestra. The music has a wide-open-spaces feel, but it also sounds intensely personal and romantic. Kernis dedicated it to his wife, who is the pianist on this recording.
Speaking of Quartet for the End of Time, the Eberli Ensemble is destined to play it, given its constituents. Together and separately, its members have been recognized time and again for their expertise and for their important contributions to contemporary music. The level of musicianhip on this CD is very high; the composer was the co-producer, so it seems likely that these performances reflect his intentions. The engineering is quite intimate; one can hear Kernis's wife releasing the pedals in Before Sleep and Dreams.
I enthusiastically recommend this CD.
Copyright © 1999, Raymond Tuttle