Related Links
Recommended Links

Site News
CD Review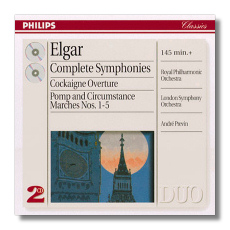 Symphonies
Symphony #1 in A Flat Major, Op. 55 (1908)
Symphony #2 in E Flat Major, Op. 63 (1911)
Marches "Pomp & Circumstance", Op. 39 * (1907)
Overture "Cockaigne (In London Town)", Op. 40 (1900)
London Symphony Orchestra/André Previn
* Royal Philharmonic Orchestra/André Previn
Philips Duo 454250-2 DDD 2CDs 77:24; 68:47
The Philips Duo line is a two-for-the-price-of-one reissue series that offers a quite economical way for the budget-minded collector to purchase favorite past recordings. This new release pairs Previn's 1985 readings of the Elgar First Symphony and Pomp and Circumstance Marches with his 1993 accounts of the Second Symphony and Cockaigne Overture. Those familiar with Previn's forays into British repertory are aware of his success with the music of Vaughan Williams. His RCA cycle from the late '60s and early '70s of that master's nine symphonies successfully challenged the then competing one on EMI of the venerable late Sir Adrian Boult. Here, in the Elgar Symphonies, Boult's ghost hovers imposingly, as well, but the undaunted Previn serves up interpretations of lush character and penetrating insight that capture an Elgar perhaps less rugged, less intense than Boult's, but also more epic and more beautiful.
Previn plays up the post-Romantic richness in the scoring and expressive language of these early twentieth-century symphonies. You can notice the seeming perfection throughout in his orchestral balances, how neither the strings nor the brass dominate the proceedings, how the less prominent woodwinds are never slighted, and how contrapuntal lines are given their just due. When the textures thicken and the fortes blare out, he never squanders detail at the expense of momentary effect. Try virtually any of the big climactic moments in either symphony's first movement (moments anti-Elgarians would charge as fulsomely scored), and notice how Previn never loses focus, never allows competing lines to trample one another.
He doesn't skirt the darker elements in these works, either, especially in the tragic Second Symphony, where, with anguished passages punctuated by weight and disruptive episodes heightened by a surreal nervosity, he seems to erect scaffolding to connect with the grimmer, more neurotic world of Gustav Mahler. In sum, Previn gives you a multi-dimentional Elgar, beautiful, compelling and sometimes unsettling. In the Pomp and Circumstance Marches and Cockaigne Overture,he deftly captures the mixture of grandiosity and lightness, fun and nostalgia. And he coaxes spirited, precise playing from the Royal Philharmonic and London Symphony Orchestras in all the works. Philips' sound is excellent, even in the decade-old First. This is one affordable pair of discs that should be in the collection of all Elgarians and anyone interested in exploring the music of one of the greatest British composers.
Copyright © 1999 Robert Cummings