CD Review
The Stokowski Sound, Part II "The Early Years"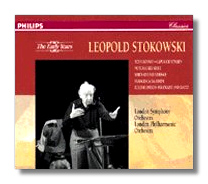 Capriccio italien 1
Eugene Onegin: Polonaise, Waltz 1
Nutcracker Suite 1
Francesca da Rimini 2
Serenade for Strings 2
1 London Philharmonic Orchestra/Leopold Stokowski
2 London Symphony Orchestra/Leopold Stokowski
Philips 442735-2 Stereo 2CDs
This is a marvelous release!! I got the set and simply enjoyed the experience, forgot to write a single word. This is my personal favorite Nutcracker (trust me, I got this in January and to like the Nutcracker so soon afterwards is some kind of record). The transfers on both discs provides a warm, full sound, better than a Tchaikovsky "Best Of" release a few years ago that contained the Serenade and Capriccio. [You know, there's no indication that this is a new mastering, nor of any difference from the earlier release. I A/B 'd the discs several times in various sequence, there is a difference.]
You may have some difficulty finding these discs. A member of the society sent me a set he got at Tower Records as a "Special Import". According to the New York branch of Philips there are no plans to make the series generally available in the U.S. It is worth the effort, however, to add these to your collection. It is a Five Star set.
As a form of segue, I was offered some inside information about these recordings. Ed Johnson, arguably the finest Stokowski expert in the world today, and I have been corresponding about the Stokowski Sound. He informed me that Stokowski was unhappy with the original master tape. He had the engineers take the master, play it inside a church and re-record it with this added reverberation!!
Stokowski was probably the first conductor to take an active interest in the recording process. He collaborated with Bell Labs in the first experiments with stereophonic sound (when will those see the digital format??). Then Stokowski and Disney created Fantasia originally released in NINE channel sound. Later there was the London/Decca Phase-4 experiments (soon to be here on CD). The fact is that Stokowski was continually involved in the recording process and went so far as to say that 'recordings will one day sound better than live performances.'
The Stokowski Sound was as much a part of the Maestro's involvement in the recording process as was his work with the orchestra. He kept tight control over what was issued, rejecting takes that were not to his satisfaction. The above example of manipulation of the recording is but one.
Ed sent me photo-copies of Stokowski's typed, and a couple hand written, instructions regarding altering a master tape. The notes reflect Stokowski's attention to every detail in the recording. They are taken from his comments related to the RCA recordings of the London Symphony Bach/Stokowski recordings. To quote:
Chaconne Figure 4: Flute - first note louder
Before 6: G natural (last note) louder on bassoon
2 after 7: Top E on flute - not clear
Figure 9: Flute - first note louder
Figure 12: Oboe - first note louder
Figure 19: Oboe - first note louder
3 after 24: Oboe - B Flat louder
Figure 32: Ensemble poor: horn plays quaver-notes too early (not together with flutes: another take?)
Figure 35: English horn: first note louder
Figure 52: Flute: first note louder
Figure 58: The quaver before figure 58: someone plays an open string: If possible use another take: if not try to soften by lowering the level at this point.
There are similar extensive directions for the rest of the recordings and the Brahms 4th Symphony. The phrase that appears most often is "more reverberation".
I believe this "sound" that Stokowski produced, especially the sense of reverberation, is a direct result of his beginnings as an organist. Have you ever sat at an organ and played for just a little bit? The experience is one where reverberation literally stimulates your whole body. What Stokowski could not capture in the recording studio, he learned to add in the mixing room.
This is why, again, it is vital to the person hearing a Stokowski recording that it honestly reflects what he was creating. To merely go back to original tapes is not enough. You have to go to the tapes Stokowski authorized.
There may be honest disagreement as to how faithfully a recording reflects the Stokowski sound. What cannot be argued, however, is that some recordings do not have it. I submit for your consideration the contrast between the two CD issues discussed in this section. Get "The Early Years"!!!
Copyright © 1995, Robert Stumpf II