Blu-ray Review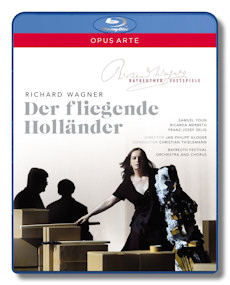 The Flying Dutchman
Senta - Ricarda Merbeth
Daland - Franz-Josef Selig
Dutchman - Samuel Youn
Erik - Tomislav Muzek
Mary - Christa Mayer
Steuermann - Benjamin Bruns
Bayreuth Festival Orchestra & Chorus/Christian Thielemann
Director - Jan Philipp Gloger
Stage Designer - Christof Hetzer
Costume Designer - Karin Jud
Lighting Designer - Urs Schönebaum
Video - Martin Eidenberger
Dramaturgy - Sophie Becker
Chorus Master - Eberhard Friedrich
Recorded Live at the Bayreuth Festival July 25, 2013
Opus Arte Blu-ray OABD7147D 140m LPCM Stereo DTS-HD Master Audio
If I had to summarize this production in one sentence I would write: this Blu-ray disc contains what is probably the most successful radical production of a Wagner opera I have ever encountered. Further, it is, of its type, perhaps the most convincing effort in any operatic repertory. Why? First, the singing: every leading role is well sung, spectacularly so in the case of Ricarda Merbeth, who portrays Senta. But there's more: Franz-Josef Selig's Daland and Samuel Youn's Dutchman are also thoroughly convincing. If this were a CD-only recording, it would be hailed as one of the finest efforts to come out of Bayreuth in recent times. Merbeth may not be a young-looking Senta, but she sings with youthful energy and passion, with incredibly beautiful tones, and with unerring vocal accuracy. She really puts her heart into the role, as her perspiration-drenched appearance throughout most of the opera seems to attest. She never runs out of energy, her voice remaining powerful and well-focused right up to the opera's close. As suggested, both Selig and Youn are nearly as compelling. I haven't mentioned Tomislav Muzek as Erik, who is also splendid. You really can't find anything wrong with the cast, but can instead only shout bravo after bravo as the opera progresses. Performances are simply that outstanding.
To digress a moment and to kick up some controversy, Samuel Youn was a last-minute replacement for Evgeny Nikitin, who withdrew days before the opening-night performance because German media produced still photos taken from a video that reportedly showed what appeared to be a swastika in one of the tattoos on the singer's chest. Nikitin apologized, blaming youthful indiscretion, but later in a release from the Mariinsky Theater, he said the image was not a swastika at all but an eight-pointed star that was still in progress when the video was made. Whatever the case, Youn sang the role and one can have no regrets because he and the rest of the cast, as well as conductor Christian Thielemann and the orchestra and chorus are brilliant on just about every count.
But the other aspects of the production may not please everyone, well executed though they are. The opening scene shows what might just pass as a space-age dungeon, but the flashing and ever changing digital numbers in the background suggest a connection to commerce. Daland and the Steersman, dressed in business suits, are soon seen on a dinghy. When the Dutchman appears, he is dressed in black and wheels along a suitcase, like so many travelers in an airport. He is a businessman and his suitcase is full of cash, which Daland and the Steersman covet: Daland will of course allow his daughter Senta to be purchased for marriage. The Dutchman's head, you notice, has what appears to be metallic circuitry attached. Is he a robot? Later, you observe that his business associates (crew) are also encumbered (or enhanced) by these same metallic attachments. A note on the back of the album box explains that the story takes place in a "part-human/part-cyborg" world that is "completely subservient to business and commerce."
In the Act 2 spinning scene (technically, this is the one-act version, though the credits mention three acts) we see the girls making and packaging electric fans in a factory owned or run by Daland, while the artist Senta makes a sort of Styrofoam or cardboard likeness of a man. Erik, a kind of blue-collar engineer, is of course in love with Senta, but once the Dutchman enters, he has no chance. To cut to the chase, in the last act Senta stabs herself and both she and the Dutchman seem to die simultaneously, but then are quickly reunited in great triumph. In the final moments the factory girls make miniature versions of the couple for market. Is the message here that money trumps love? During curtain calls the Bayreuth audience clearly liked the singers (especially Merbeth) and conductor but some booed director Jan Philipp Gloger and his production retinue.
The camera work, picture clarity and sound reproduction are first-rate. What's lacking in the packaging is a list of tracks and associated numbers in the opera. I have no idea why this was not provided, not that it is a fatal flaw. It is rather an inconvenience that those new to Wagner or to this opera will find somewhat problematic. The Flying Dutchman is Wagner's first true operatic masterpiece, though it's not on quite the same level as Tristan, Meistersinger, the Ring operas or Parsifal. I have a special fondness for this early Wagner effort nevertheless, not least because a recording of it served as my introduction to Wagner's operas. Ironically, that recording was also taken from a Bayreuth performance, the 1961 production featuring the very young Anja Silja as Senta. At any rate, regarding this Blu-ray Dutchman on Opus Arte, I can say it's very difficult to make comparisons with other performances. It is a spectacular effort in so many respects and would be hard to pass over if you're a dedicated Wagnerian. If you're adventurous, you can hardly do without it. Traditionalists may find it problematic. Verdict: strongly recommended with the reservations noted.
Copyright © 2014, Robert Cummings