DVD Review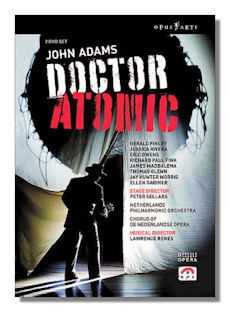 Doctor Atomic
Gerald Finley (J. Robert Oppenheimer)
Jessica Rivera (Kitty Oppenheimer)
Eric Owens (General Leslie Groves)
Richard Paul Fink (Edward Teller)
James Maddalena (Jack Hubbard)
Thomas Glenn (Robert Wilson)
Jay Hunter Morris (Captain James Nolan)
Ellen Rabiner (Pasqualita)
Chorus of the Netherlands Opera
Netherlands Philharmonic Orchestra/Lawrence Renes
Het Muziektheater, Amsterdam June 7, 25 & 29, 2007
Opus Arte OA0998D 2DVDs 230:00 LPCM Stereo Dolby Digital DTS Anamorphic Widescreen
Composer John Adams's predilection for topical operas reached a kind of apotheosis in 2005 with Doctor Atomic, which was premièred by the San Francisco Opera. The title character is J. Robert Oppenheimer, head of the Manhattan Project, and the opera takes us to the Arizona desert outside of Los Alamos in July 1945, as the testing of the first atomic bomb (or "Gadget," as it is referred to by Oppenheimer) is imminent. Doctor Atomic is no documentary, however, but a work that goes farther and deeper in its attempt to dissect the implications of the work done by Oppenheimer and his fellow scientists. Director Peter Sellars constructed the libretto from period documents, recently declassified, and also from the poetry of John Donne, Charles Baudelaire, and Muriel Rukeyser; the Bhagavad Gita; and a traditional song of the Tewa tribe of Native Americans. The choreography of Lucinda Childs also plays a prominent role in the opera.
Based on what I had heard about Doctor Atomic, my expectations were somewhat low as I started watching these DVDs. My appreciation for John Adams's music had been decreasing for the past decade, and I feared that he would have nothing new to say in Doctor Atomic. I was, however, almost immediately gripped by the first act, and the momentum never faltered throughout its nearly 80 minutes. "Well," I thought skeptically, "the second act will be problematic." At a bit under 90 minutes, it is overlong, and not as tightly constructed as the first act, but it hardly was a disappointment. All in all, Doctor Atomic is one of the most impressive new operas I have seen in some time, although one could argue it is difficult not to be impressive when your subject is the atomic bomb!
The Dutch production recorded here (live, although I was not aware of the audience) comes almost two years after the San Francisco première, and I gather some changes were made to the opera during that interval. All the male members of the original cast are repeating their roles here, and they are a memorable lot! The newcomers are the women. Soprano Jessica Rivera has a strong stage presence as Oppenheimer's wife Kitty, and she negotiates the jaggedly expressive writing with confidence, and with a powerful yet always attractive sound. As Pasqualita, the Oppenheimer's Tewa nurse, Ellen Rabiner has a problematic role. If you've been cast as the voice of the Earth, there isn't a lot that you can do with that, and Rabiner doesn't have the voice or the charisma to overcome that. She's the only character who doesn't rant, however. It wouldn't be too far from the truth to call Doctor Atomic a 170-minute mad scene for seven characters.
Speaking of mad scenes, baritone Gerald Finley's performance of the title role astonishes, particularly at the end of act I, where he sings an extended solo whose text is based on the Holy Sonnets of John Donne. Finley's intensity throughout the opera exhausted even me; I can't imagine what he feels by the end of a performance. The beauty of his voice makes it hard to lose sympathy for Oppenheimer. In fact, using the tools that Adams and Sellars have given him, Finley helps us to understand Oppenheimer's controversial character better, and to put ourselves in his shoes.
Doctor Atomic could have been pretentious and preachy, but it is neither of those things. I hesitate to call the music "great," because I feel that its primary function is to serve as a scaffold for the libretto. Take away the text and it would be diminished greatly. Still, if Adams's music is primarily scaffolding, it is scaffolding of the highest quality. (I suppose the text would be just as diminished if Adams's music were taken away!) The important thing is that Adams work here has a white-hot intensity and commitment which – to my ears – has been missing from some of his more recent work. To a degree, Doctor Atomic brings back the John Adams I knew and loved – the Adams of Harmonium and The Wound-Dresser.
The first DVD contains a cast gallery and an illustrated synopsis. The second contains four short documentaries about the opera, the cast, John Adams, and Peter Sellars, and a longer, preachier interview with Sellars. You won't miss much by skipping any of them, but the "mini documentaries" probably are worth watching once. Visually, the High Definition DVD (16:9 anamorphic) is a treat. The rapid editing and close camera-work create a tension which compensates for not being physically present in Amsterdam's Muziektheater. Even the occasionally artsy-crazy camera angles feel right. The sound (LPCM Stereo and DTS Digital Surround) also has tremendous impact … and there's plenty of ominous rumbling in Doctor Atomic!
We are only two weeks into 2009, but when I compile my list of favorite CD and DVD releases of 2009, I am confident that Doctor Atomic will be on it.
Copyright © 2009, Raymond Tuttle