DVD Review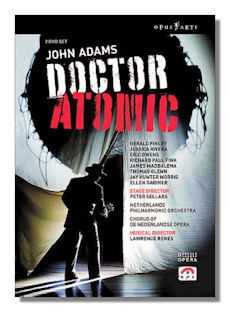 Doctor Atomic
Gerald Finley (J. Robert Oppenheimer)
Jessica Rivera (Kitty Oppenheimer)
Eric Owens (General Leslie Groves)
Richard Paul Fink (Edward Teller)
James Maddalena (Jack Hubbard)
Thomas Glenn (Robert Wilson)
Jay Hunter Morris (Captain James Nolan)
Ellen Rabiner (Pasqualita)
Chorus of the Netherlands Opera
Netherlands Philharmonic Orchestra/Lawrence Renes
Het Muziektheater, Amsterdam June 7, 25 & 29, 2007
Opus Arte OA0998D 2DVDs 230:00 LPCM Stereo Dolby Digital DTS Anamorphic Widescreen
The music to this opera is powerful and masterly. It contains hints of Stravinsky and Copland, noticeable especially in the scoring, but is mostly free of such easily recognizable influences. One can assert that John Adams then, has conceived the score in his imaginative and highly individual style, a style that has produced other, if controversial successes in the opera house, Nixon in China and Klinghoffer.
The story of Dr. Atomic deals with J. Robert Oppenheimer, the scientist who headed a team of scientists on a project to create and test the world's first atomic bomb. Let me say right off that many have already declared this work a masterpiece, but many have also charged it is a flawed effort owing to its libretto. The libretto was written by Peter Sellars, using statements made by the scientists, military personnel and others involved in developing and testing the bomb. He also employs poetry from John Donne, Baudelaire, Muriel Rukeyser and the Bhagavad Gita. The opera gains in tension as the explosion of the bomb nears, but the libretto drags in parts, as Sellars appears determined to insert as many misgivings about the bomb as he can. It's all insanity and recklessness to him, and apparently to Adams as well. It's a legitimate point, of course, and it was made again and again in so many science fiction B-movies of the 1950s. In an interview with the composer on disc two, found in one of the "extras" provided by Opus Arte, Adams cites the connection to the 1950s' science fiction movies himself. In a sense, this opera is a throwback to the 1950s era – or postwar era – but it contains a few anachronisms. To make my point let me get back to that libretto for a moment. Here is one line sung by Teller, as the explosion of the bomb approaches:
"The scientists are standing around in the dark
And munching candy bars as we wait."
In 1945, who would ever have said anything like "munching candy bars", or "munching" anything? I grew up in the postwar era and can say that I hadn't heard that kind of dialogue until the youthful sort of hip-talk of the 1980s and beyond. But I suppose this and other such lines aren't ultimately a big deal. The static parts of the libretto are, however. Do they fatally wound this opera? I don't think so. To me, this is a worthy effort. Let us remember that Verdi's Il Trovatore was hampered by an inferior libretto, but its music has risen above that millstone. I think Adams' score can, too. It is dark, with consistently brilliant orchestration and memorable music. No, it doesn't have the knockout numbers, but it is compelling and mostly quite approachable even to novice listeners.
And the recording here is splendid. The cast is uniformly excellent. In a co-production of the San Francisco Opera, Chicago Lyric Opera and Netherlands Opera, Gerald Finley heads the field with a passionately committed performance of Oppenheimer. But then the work of Eric Owens as General Groves is stunning, as is that of Ellen Rabiner as Pasqualita. Jessica Rivera's Kitty is also brilliant, especially considering the fact that her preachy part is difficult to bring off. Richard Paul Fink's Edward Teller is also splendidly performed. Conductor Lawrence Renes draws spirited and quite accurate playing from the orchestra, and the chorus turns in fine work as well.
The choreography didn't impress me, but that wasn't the fault of the dancers. Some ballet aficionados may find it a nice contrast to the singing, but probably little more. All in all though, this was a quite worthwhile experience. Adams' score is powerful and deserves to be heard. Not surprisingly, more than a few have suggested that it might be better served with a different libretto. Who knows? Maybe that will happen someday, but for now, warts and all, this is still quite a compelling effort. The sound and camera work were excellent and the sets, as in many modern opera productions, were skimpy but atmospheric anyway. Recommended.
Copyright © 2008, Robert Cummings