DVD Review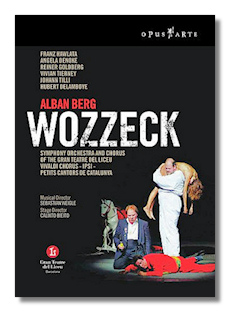 Wozzeck
Franz Hawlata (Wozzeck)
Angela Denoke (Marie)
Hubert Delamboye (Captain)
Johann Tilli (Doctor)
Reiner Goldberg (Drum Major)
David Kuebler (Andres)
First Apprentice (Kurt Gysen)
Second Apprentice (Jochen Schmeckenbecher)
Fool (Steven Cole)
Marie's Child (Gemma Velayos)
Vivaldi Chorus - IPSI - Petits Cantors de Catalunya
Symphony Orchestra & Chorus of the Gran Teatre del Liceu/ Sebastian Weigle
Opus Arte DVD OA0985D 129min Dolby DTS Anamorphic Widescreen
In the present century, Wozzeck, as it was imagined first by playwright Georg Büchner and later by composer Alban Berg, perhaps has lost its ability to shock and disorient us. Stage director Calixto Bieito seems hell-bent on disturbing us all anew. He has set the opera entirely inside some sort of industrial setting criss-crossed by pipes and catwalks. All the characters appear to work on an oil-rig, although the Drum Major is inexplicably dressed like a glam rocker. (Even more inexplicably, he has no beard, contradicting several references otherwise in the composer's libretto.) Marie's child, dressed like other characters in a red jumpsuit, wears an oxygen mask and might be suffering from radiation sickness. Marie's house is an industrial container lowered from the wings, and instead of drowning in the pond, Wozzeck crawls up a drainage pipe.
Bieito seems to think that Wozzeck is totally out of his mind from the get-go, and so the obvious question, "Where do you go from there?," is answered by making the title character's perceived environment progressively more disturbed. In act II, the going gets weird (not that it wasn't already) when the Doctor, who seems to be both a human vivisectionist and a grave-robber, simulates an act of necrophilia with one of his subjects. In the first Tavern Scene, the chorus members become zombies, and several of them lug in a creature that looks partly like a Chinese dragon and partly like one of the sand worms from Dune, although it is clearly made out of leftover duct material. Not content to stop there, Bieito has the chorus members walk downstage nude during the interlude between the last two scenes. In the very last scene, as Marie's child rides his hobby-horse, the other children pelt him with refuse. A feel-good production this is not. Purists will have a great deal of difficulty with it. Nevertheless, I think the production's audacity captures Wozzeck's spirit, if not its letter. Certainly there are enough disturbing images in this production for a year's worth of nightmares! (An unintentionally disturbing image is that of Reiner Goldberg recovering his wig during curtain calls, and then apparently not being sure of whether or not to put it back on!) In the 18-minute documentary that fills out this DVD, Bieito claims to have been influenced by Fritz Lang's Metropolis, but I think George Lucas's THX-1138 is an even stronger influence. (Maybe Alien too.)
Musically, this is a very respectable production. Its core is Franz Hawlata, who sings the title role more beautifully than just about anyone else I've heard, except for Dietrich Fischer-Dieskau (who sings it too beautifully). Hawlata seems unfazed by the production, and he vividly conveys Wozzeck's plight. If he gives too much too soon, that's Bieito's fault and not his. Denoke brings less warmth to Marie than many, but her technique is excellent, and she can negotiate Berg's most difficult passages without shrieking them. Delamboye's Captain and Johann Tilli's Doctor are sung and acted with some degree of caricature. Even so, I don't think this is inappropriate, and it is not overdone. If anything, Delamboye could have made more of the Captain's neuroses. Tilli could hardly be more sinister, however, with his piles of dead bodies, which are lovingly caressed. Kuebler doesn't make Andres as sympathetic as he might, and Goldberg lacks charisma as the Drum Major. (I can't understand why Marie would prefer him to Wozzeck! This is a common complaint I have with productions of this opera.) The smaller roles are very strongly cast, however. I feel like there is more singing than Sprechstimme, but I am not bothered by it. Conductor Weigle keeps everything moving along very efficiently, to the point where some of the orchestral details and colors get occluded. (Also, it was a mistake to have the "drowning" Wozzeck moan from his drainage pipe, because that detail already is provided – and more effectively, too – by Berg's orchestra.) The tension never flags, though. Although there are no breaks between the acts, I didn't feel any fatigue over the course of 100 minutes.
The DVD uses material from live performances in Barcelona's Gran Teatre del Liceu from January 14 and 17, 2006. The camera-work and the sound are outstanding. The aforementioned documentary gives a somewhat superficial introduction to the opera and this production, but it is better than nothing. The menus, by the way, are just as gruesome and disturbing as the production itself, so kudos to Opus Arte for carrying the director's vision to the next step. The (British) English subtitles have been handled nicely.
Copyright © 2008, Raymond Tuttle