DVD Review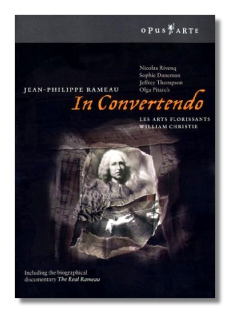 In Convertendo
Motet "In Convertendo Dominus"
Pièces de clavecin en concert:
La Timide
La Poplinière
La Rameau
Béatrice Martin, harpsichord
Patrick Cohën-Akenine, violin
Nima Ben David, viola da gamba
Les Arts Florissants/William Christie
Opus Arte DVD OA0956D 97min DTS Dolby Digital LPCM Stereo Anamorphic Widescreen
This is a curious DVD – neither fish nor fowl. The motet In Convertendo is the featured work, but it is only 24 minutes long, so the DVD is filled out by three excerpts from Rameau's Pièces de clavecin en concert (14 minutes) and a nearly hour-long biographical documentary called "The Real Rameau." Potential purchasers may well ask themselves if they are getting their money's worth, since the purely musical portions of this DVD would not even fill a CD respectably.
In Convertendo predates Rameau's career as an opera composer. It calls for chorus, orchestra, and four soloists. Here, it is performed in the Saint-Louis des Invalides Church in Paris, a cavernous location for this sort of music, and made even more cavernous by the apparent absence of an audience. For a sacred work, the performance feels secular. The chorus and the soloists are surprisingly generous with their vibrato, and the orchestral contribution is anything but sober; flutist Serge Saitta seems almost determined to steal the spotlight. For the life of me, I cannot figure out why the singers keep flashing sly glances and smiles at each other. Is this a commentary on the texts? If I had been a member of the (non-existent) audience, I might not have noticed this, but on a video screen it is very distracting. Tenor Jeffrey Thompson is the worst offender in this regard, although his instrument is a beautiful one, and he uses it with great virtuosity. Christie clearly understands this music, but this time around, he seems to have allowed his performers to get too carried away.
The Pièces de clavecin en concert are essentially harpsichord pieces with accompanying instruments. As presented here, the first and the third are the composer's self-portraits, while the middle one is a portrait of his patron, Le Riche de la Pouplinière. The performers are members of Les Arts Florissants, and they play these works with sober sensitivity.
The multilingual documentary includes interviews with Christie, John Eliot Gardiner, and several other exponents of Rameau's music. Most oddly, it also contains segments in which actors in modern dress (!) sitting in a pub drinking beer (!!) speak the words of Rameau's nephew and of Diderot. Rameau is presented as an innovator – a composer and theoretician way ahead of his time – and as a man whose shyness in "high society" caused him to be perceived as rude or even arrogant. The documentary contains excerpts from several of Rameau's operas already released on Opus Arte DVDs – a subtle bit of advertising there!
Sound (stereo and DTS digital surround) and picture (Anamorphic Widescreen) both are excellent.
Copyright © 2007, Raymond Tuttle