DVD Review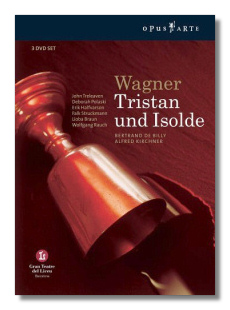 Tristan und Isolde
John Treleaven – Tristan
Deborah Polaski – Isolde
Erik Halfvarson – King Marke
Falk Struckmann – Kurwenal
Lioba Braun – Brangäne
Wolfgang Rauch – Melot
Francisco Vas – A Shepherd/Young Sailor
Michael Vier – A Steersman
Symphony Orchestra and Chorus of the Gran Teatre del Liceu/Bertrand de Billy
Stage Director – Alfred Kirchner
Recorded Live at the Gran Teatre del Liceu, Barcelona, Spain, June 15 & 26, 2002
Opus Arte OA0935D 3DVDs Anamorphic Widescreen LPCM stereo, Dolby Digital 5.0, DTS 5.0
My two favorite Wagner operas are probably Die Meistersinger and Tristan und Isolde. It's always tough making such choices, since I could just as well throw a couple of the Ring operas into contention, like Die Walküre and Götterdämmerung. In the end, though, it is probably Tristan which has left the most lasting mark, not only on me but perhaps on Western music, as well. But I don't listen to Wagner's influence; I listen to his music.
This Tristan is certainly a worthwhile effort, one in which the balance of power – or, shall I say?, the balance of vocal art – is rather even between the two principals here, Deborah Polaski and John Treleaven. I read one review on the web that was not favorable to Treleaven, but quite praiseworthy of Polaski. While Treleaven may not possess a gorgeous voice, he makes a quite compelling Tristan here, both vocally and dramatically. He reminds me a bit of Jon Vickers, not that his voice is similar to that long – retired Canadian tenor's. Indeed, but both have (or had, in the case of Vickers) a less than ravishing vocal instrument, and yet both have made the most of it. I can say I have few complaints about Treleaven's Tristan here – he is brilliant, if a bit inconsistent in places.
Deborah Polaski is also stunning in her portray of Isolde. Her Mild und leise is one of the finest ever. You have to hear it to believe it! It almost obliterates your impression of the secondary roles in the opera, almost obliterates everything that precedes it, in fact. But Erik Halfvarson's King Marke is certainly compelling as are Lioba Braun's Brangäne and Falk Struckmann's Kurwenal.
Bertrand de Billy conducts with a knowing sense for the building tension and passion in this Wagner masterpiece, drawing fine playing from his Barcelona players throughout. The sound is very good, though a bit bass heavy at times. The production features rather barren – looking but hauntingly atmospheric and darkish sets, generally with imaginative lighting. The characters are attired in quaintly modern styles, but their appearance is not distracting. The camera work is fine, and all other production values are high. While there have been many fine Tristans (including the Vickers – which featured Helga Dernesch as Isolde and had Karajan on the podium), this one must be counted among the stronger efforts. Recommended.
Copyright © 2006, Robert Cummings