Related Links
Recommended Links

Site News
CD Review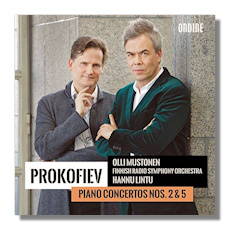 Piano Concerto #2 in G minor, Op. 16
Piano Concerto #5 in G Major, Op. 55
Olli Mustonen, piano
Finnish Radio Symphony Orchestra/Hannu Lintu
Ondine ODE1288-2 57:58
This is the second and final volume of Olli Mustonen's cycle of the five Prokofiev piano concertos. Here he delivers rather expansive accounts of the two works, the timings about two minutes longer in each than an average-length performance. That's not necessarily a bad thing, of course, but I will say the Second's big first movement cadenza and Scherzo do lack some momentum. Otherwise it's a thoughtful, sensitive performance of this difficult concerto that focuses on its epic character, while allowing you to hear many inner voices on the piano not usually heard in other performances. Try the buildup in the latter part of the finale when the two main themes are played together, and notice the clarity of detail as well as the expressive depth that Mustonen achieves. You also hear more orchestral detail, especially in heavily scored passages.
True, some of Mustonen's phrasing can strike you as eccentric in the way he accents certain notes and shows abrupt changes in dynamics. But your ear adjusts quickly because more often than not the pianist deftly incorporates these unconventional moments into his subtle but quirky style, typically allowing you to enjoy the music in a different way.
His account of the Fifth may be the better of the two performances: his finale is a gem in its almost paradoxical combination of muscle and grace. And again, you hear so much meaningful detail expressed with such subtlety, not only here but throughout the concerto. He phrases the first movement main theme with a perky sort of elegance and ultimately makes the whole movement sound more colorful and witty than you're likely to encounter in other performances. The second movement march is also witty, while the ensuing Toccata is less percussive and more energetic than is usually the case. In the Larghetto fourth movement Mustonen points up the brightness and serenity of the lovely main theme, then delivers the dark middle section with more elegance than muscle, an approach that may fall a little short on expressing the heart of this troubled music. Still, this is a fine account of this movement. I've already spoken about the finale, and so in sum I'll say that in its different way, Mustonen's Prokofiev Fifth is as good as either performance by Richter and those of Ashkenazy and Boris Berman.
Hannu Lintu draws fine, highly detailed performances from the very fine Finnish Radio Symphony Orchestra and Ondine provides excellent sound reproduction. This is a splendid issue and caps a most compelling cycle of the five Prokofiev piano concertos. Recommended.
Copyright © 2018, Robert Cummings