CD Review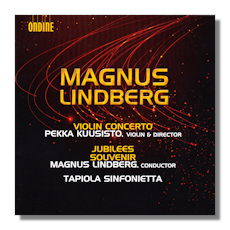 Concerto for Violin
Violin Concerto *
Jubilees
Souvenir
* Pekka Kuusisto, violin
* Tapiola Sinfonietta/Pekka Kuusisto
Tapiola Sinfonietta/Magnus Lindberg
Ondine 1175-2 66:52
Ondine continues to do great service to Finnish composer, Magnus Lindberg (b. 1958), with this release of three differing orchestral works, played – as is to be expected – with great style and perception by the Tapiola Sinfonietta.
As well as other orchestral works with prominent roles and/or parts for solo instruments, Lindberg has so far written two piano concerti (1990-1994, 2012) and one each for cello (1997-1999), clarinet (2001-2002) and violin (2006). It is the latter that opens this CD. Expansive, optimistic, melodious and forceful, its two long and third much shorter movements are characterized by two things.
A relatively small orchestra: the work was premiered at the Mostly Mozart festival in New York (in 2006). The solist also directs. Although not emulating Mozart, the transparency and only slightly darkened textures remind one at times of the earlier composer's intent to uplift.
Then it's characterized by a brilliance in the several solo passages for violin: virtuosity is neither explicitly called for, nor unduly emphasized. There are no fireworks as such. Yet the work is clearly a concerto; and one in which the soloist has a life of their own. Pekka Kuusisto plays with panache, insight, gentleness and crystalline perception. He doesn't allow his phenomenal technique to outshine either the structure or the tonal variety or integrity of the work.
When compared with many of Lindberg's earlier works, this Violin Concerto is less aggressive. At the same time, it has moments of force; violence even. But all to a purpose; and a purpose that only becomes fully evident as the third movement ends. A short and well-planned journey has been embarked upon, though almost without your ever having been invited to come along. This, too, is redolent of Mozart… an undemonstrative – if scarcely a quiet – and confident achievement.
Jubilees originated in a series of piano "miniatures" written for Pierre Boulez in 2000 in celebration of his 75th birthday. The first movement presents material that is explored in the other five alternating fast-slow movements. These orchestrations, which last nearly 18 minutes together, nicely retain the focus and attention of the originals. As with Souvenir, the Tapiola Sinfonietta is conducted by Lindberg. Once again, as they progress, Lindberg's unassuming style obliquely invites you to reflect on progress, development, variety. Yet the medium is clearly the tones and timbres of the instruments. They don't constitute a distributed Concerto for Orchestra; yet the players of the Sinfonietta approach each movement with comparable care, order and – it can be said – justified pride.
Lindberg studied with Gérard Grisey and Franco Donatoni. It is to them that Souvenir is dedicated. His last work while composer-in-residence with the New York Philharmonic (2009-2012), it broadly shares the same resources as the other works on this CD. Yet, although lacking none of the punch and power of the other works here, is different in tone and purpose. Souvenir too invites us to reflect on instruments' sonic characteristics. It, too, reveals Lindberg's skills as a symphonist; although Souvenir can at most be considered a chamber symphony. It has three movements whose melodic and thematic structure(s) are symphonic. It's in the tradition of the composer's earlier large-scale orchestral pieces. Typical of Lindberg, the music's own momentum will determine the characteristics and lengths of the movements, rather than any formal plan.
The acoustic of the CD is not opulent; yet it both rewards the adventurousness of Lindberg's painting, and reflects its elegance. The booklet contains useful contextualizing background on the performers and composer as well as the three works. If you enjoy Lindberg's music, you won't want to miss this CD. Although the Violin Concerto is also available (on Sony 712936 with Lisa Batiashvili and the Finnish Radio Symphony Orchestra under Sakari Oramo, which is also an excellent recording), neither of the other works is (what is now called Piano Jubilees is on Naxos 8.570542 with Ralph van Raat). So this is a collection to be snapped up.
Copyright © 2013, Mark Sealey