CD Review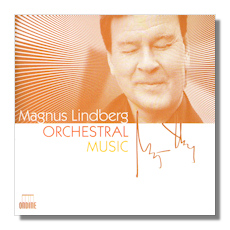 Orchestral Music
Tendenza 1
Kraft 2
Kinetics 3
Marea 4
Joy 4
Corrente 1
Corrente II 5
Coyote Blues 1
Arena 5
Arena 2 1
Feria 5
Gran Duo 6
Chorale 6
Concerto for Orchestra 6
Sculpture 6
1 Avanti Chamber Orchestra/Sakari Oramo
2 Toimii Ensemble/Esa-Pekka Salonen
3 Bavarian Radio Symphony Orchestra/Jukka-Pekka Saraste
4 Avanti Chamber Orchestra/Jukka-Pekka Saraste
5 Finnish Radio Symphony Orchestra/Jukka-Pekka Saraste
6 Finnish Radio Symphony Orchestra/Sakari Oramo
Ondine ODE1110
The 15 pieces in this collection of music by Finnish composer Magnus Lindberg, who was born in 1958, range in length from Chorale's six minutes to Kraft's 30; and from Tendenza's year of composition, 1982, to Sculpture's, 2005. The pieces are actually presented across these four CDs in chronological order. They represent an aggregation of recordings by soloist, four orchestras and ensembles under three conductors; they were previously released by Ondine in 1992, 1997, 1998, 2004 and 2005. One purpose of this issue is to illustrate the way in which Lindberg's composing career has evolved: "…every work contains something completely new but also something from the previous work…" [from an interview Lindberg gave in 1995].
So there must be two criteria by which we should judge the success of such a collection: How well does it reflect Lindberg's development? How good are the performances? Currently composer-in-residence at the New York Philharmonic, Lindberg studied at the Sibelius Academy in Helsinki under Rautavaara and Paavo Heininen; he also attended summer courses with Franco Donatoni, Lachenmann and Ferneyhough then studied privately with Vinko Globokar and Gérard Grisey. A pianist, Lindberg founded Toimii ("It Works" in Finnish) in 1980 and plays with the ensemble. At around the same time, he started the informal Ears Open Society.
Kraft was one of Lindberg's first compositions, dating from the early 1980s; and is his largest to date with multiple harmonies and an orchestra extending to scrap metal percussion and the spoken word. There seemed a real danger that Lindberg had thrown so much into Kraft that he had "written himself out". Here it's performed with vigor, sensitivity and a real awareness of its monumental status. The variety of instrumental color and layers of texture are given no more nor less prominence than the shifting forward movement by groups of instruments apparently in search of themes. Yet the players never take such searching literally; they remain in control. One is struck by the contrast which Kraft's force (as you would expect from such a name) employs at all times when compared with the more reticent, yet equally assured style of Tendenza. But the integrity of the Avanti Chamber Orchestra and Oramo in the latter is as great as of Toimii Ensemble and Salonen as they work undistracted though Kraft.
But the trilogy, Kinetics, Marea, Joy, saw him build on the technique of repeated chords and refining a chaconne-like style in Corrente and Corrente II by the end of the decade. The sweeps and sustained chords of both Kinetics and Marea are amply handled by Bavarian Radio Symphony Orchestra with Saraste and the Avanti Chamber Orchestra with Oramo again. Although the scoring is lighter, neither group of players falls for the temptation of conveying anything less than the full impact of both pieces; and their lyrical subtlety is in evidence from first to last. There's a danger that in works scored in this way – with layers or sound and less horizontal development at times than vertical – the dynamic will be lost because orchestral players and sections may be determined first and foremost to convey the sound and not the subtleties of the musical line. One only has to attend to the crescendi and diminuendi in the middle sections of Marea [CD.1 tr 5] to see how this danger has been avoided. For all that piece is indeed about the ebb and flow of the tide, the players of the Avanti Chamber Orchestra – in common with their colleagues in the other three orchestras – maintain tension until the last note.
Aura (1994) is not included on these CDs but pointed the way to a new development, a new kind of tonality which is also to be heard in the Clarinet Concerto (2002), and of which the only recording available now is also on Ondine (1038) with Kari Kriikku and the Finnish Radio Symphony Orchestra under Sakari Oramo.
Other major works by the composer (not all orchestral) which are not included on this set are Graffiti and Seht die Sonne (Ondine ODE1157), the Violin Concerto (Sony 712936), the Cello Concerto, Cantigas, Parada and Fresco (Sony 89810) and the piano music (Naxos 8.570542). So, since the totality of Lindberg's published works exceeds 60 in number, the present set contains numerically less than a quarter of them all. But at less than $8 for each of the four CDs it still represents an amazing bargain and should be snapped up by anyone who's exploring Lindberg for the first time; who maybe has some of these recordings but not others; and for that matter by anyone interested in new music at all: Lindberg's is an important, original and pleasing voice.
To listen through these works is to be struck by Lindberg's gradual move towards the sonorous (albeit still complex; perhaps still extreme), the sensual almost – from the more incisive. But also to be struck by a sonic profusion and richness rather than anything simple, single-threaded. You're also likely to come away marveling at Lindberg's amazing prowess in controlling both the orchestra as an instrument and his command of the characteristics of each of the instruments in the orchestra. Even though he has tempered any affect of the "angry young man" with which he burst onto the scene in the late 1970's Lindberg remains fascinated by the modern, the new, the exciting, the fast even; he is quoted as saying, "I am a child of the times, and I like fast and complicated things".
But the story is a little more subtle than this: indeed, the notes that come in the booklet with these CDs are written in such a way as to suggest more nuanced phases in Lindberg's musical development. To be sure, Tendenza and Kraft emphasize the energy of rhythm and sonority with harmony; melody is effectively absent. And it's undeniable that Kinetics, Marea and Joy privilege harmony over rhythm. But there are quiet moments (reflective moments indeed) in Kraft and implied softnesses, and certainly a marked consonance, in Joy. This is more than illustrative of Lindberg's pairing of the new with the previous. It indicates a thoughtfulness and subtlety of approach that's well reflected in the orchestral playing on these CDs. Tempi, for example, must vary – and be shown to vary – in such sparer works as Joy [CD.2 tr.1].
By the 1990s Arena, Coyote Blues, Arena 2, Feria were showing a less frenetic form of musical organization still. Individual motifs began to emerge at the expense of pure sonority. And the motifs were at times melodic! And so they are made to sound with great effect by Oramo and the Avanti Chamber Orchestra here. This piece, and indeed Corrente, Arena 2 and Coyote Blues on the second CD, are played (again by the Avanti Chamber Orchestra with Oramo) with a delicacy that attests to the players' complete confidence in the idiom. You can almost hear them squeezing from each score as much filigree and intricacy as Lindberg put into it. And in doing so, in trusting to their sense of familiarity with the various twists and turns each piece makes, they present their angularity and discrimination of tone, timbre and texture without the spurious surprise that mere experimentation let run wild relies on. While Corrente II, played by the Finnish Radio Symphony Orchestra but under Saraste again is heard to be every bit as refined. It has to be noted that there is a constant exchange of conductors as you work your way through the pieces on the four CDs. But this is never either distracting or inconsistent.
The third CD also contains Arena, Arena 2, Feria and Gran Duo all played by Saraste and the Finnish Radio Symphony Orchestra. Each seems to be more melodic, have more discernible paths along which the listener travels aware of a leading line, than the previous. Again, the orchestra pulls no textural or timbral punches, each section of each piece being given its head and allowed to make full impact. But Saraste is also just as aware of the structure of the music such that the journey we're implicitly taken on is a meaningful one. Feria even has quotes (or sometimes barely recognizable motifs) from familiar works by other composers; these lend the piece an immediacy, which the orchestra balances with its impact and forceful forging of line and structure. Gran Duo is performed with a similar degree of vigor, energy and penetration. But there's a clarity in the (orchestra's) sections and the way they relate to one another which – together with the clean recording – mean that this liveliness does not run away with itself. It's a more "jazzy" piece with lots of brass; but the performers never sacrifice accuracy and detail to "aura".
The last CD has Chorale, Concerto for Orchestra and Sculpture with the Finnish Radio Symphony Orchestra and Saraste again. Again, they play with a dignity and sense of the grand in such a way that Lindberg's conceptions are credited with weight, purpose and a certain enduring quality; as well as excitement, novelty and an almost jittery self-confidence on the composer's part at what he's doing, and where he's moving. Both Chorale and Concerto for Orchestra are large-scale works with true centers of tonal gravity. Slow and deliberate in developmental terms, the Orchestra knows how to extract every drop of meaning and originality at each turn. The latter work is one of the longest works in this collection; it's played here with such insight that it also turns out to be one of the most satisfying. Like a landscape with both vistas and sweep as well as interesting features, nooks and places in which to secrete oneself, the Concerto for Orchestra loses neither focus nor genuine intrigue for a moment. Similarly, Sculpture hints at things to come with an even more clearly defined acknowledgement of the role tonality might play in Lindberg's music, some more oblique quotations, and the composer's signature deft originality with orchestral color. It's a happy way to end your exploration of Lindberg's orchestral œuvre.
The audio quality of all four CDs is first class; engineered to reveal the music and not the sound, the acoustics are all superb, though they're those of different locations. Neither this nor the order, styles of conducting nor the scale of players should offer any doubt about the integrity and desirability of this set. As said, it represents a great bargain financially, offers a better than merely serviceable collection of Lindberg's orchestra works, is well-supported by a nicely-written booklet giving background and context; though with a rather odd photograph of Lindberg's face… perhaps he's concentrating. Recommended.
Copyright © 2011, Mark Sealey.