DVD-Audio Review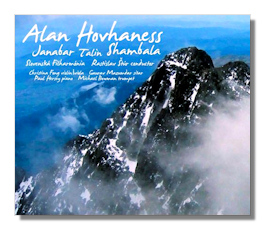 Janabar, Op. 81 1
Talin, Op. 93 2
Shambala, Op. 228 3
Christina Fong, 1,3violin and 2viola
1 Paul Hersey, piano
1 Michael Bowman, trumpet
Slovenská Filharmónia/Rastislav Štúr
OgreOgress 634479667077 DDD DualDisc DVD-Audio 126:00 + CD side 59:00
With approximately 500 separate works to his credit, there's almost no end to the music by Alan Hovhaness waiting to be discovered. Born in 1911 to a father of Armenian descent (but Turkish birth) and a mother of Scottish descent, Hovhaness traveled a difficult path toward becoming a composer. Sensitive to criticism, he destroyed much of the music he wrote before he turned 30. It was around that time that he started to take a renewed interest in his Armenian roots, and his fortunes began to change. The success of his Second Symphony ("Mysterious Mountain") in 1955 opened new doors for him. He was able to travel to Asia many times, immersing himself in its music and its instruments. No doubt these travels refined his spiritual beliefs. Hovhaness eschewed traditional religion, but he was a spiritual man nonetheless, and he liked to ask questions about mankind's place on Earth and in the universe. To some extent, all three works on this CD exemplify through music the sorts of spiritual questions that Hovhaness asked.
Janabar is the Armenian word for "journey," and this 37-minute work from 1950 is a journey indeed. This is its first recording. Scored for violin, trumpet, piano and strings, it might be described as a suite a five rather loosely connected – at least on the surface – movements. (Hovhaness subtitled the work "Five Hymns of Serenity.") The unharmonized violin melodies in the second and fourth movements stretch into infinity, like smoke plumes rising from the summit of a distant mountain. In the fourth movement, there is an extended passage in which one of those long melodies is accompanied by patterned quasi-aleatoric writing from plucked strings. At one time, the composer referred to this as a "spirit murmur," and it is a technique that many composers picked up later on, and often used with less subtlety. The trumpet appears only in the first, third, and fifth movements, and in a more closed-ended harmonic context than the violin. (The composer has said that he hears in the trumpet the voice of a priest.) Neither narrative nor structured for structure's sake, Janabar is sprawling and rather "boneless" by Western standards, but one can't miss the originality of Hovhaness's voice here.
Talin, a de facto concerto for viola and strings composed one year later, was recorded more than 50 years ago, but that recording is long gone. (There's a more recent recording with the viola replaced by a clarinet.) Talin is an Armenian cathedral from the 7th century, and the viola speaks as if with a voice from that time – chanting, singing, praying, and in the middle movement, whirling. (That "Estampie" was inspired by the sound of the Persian kamanche.) Again, the melodies in this work seem to go on forever, as if they had no bar lines. (In Hovhaness's music, often they don't.) Christina Fong, switching to the viola in this work, rejects a classically beautiful tone in favor of producing a very human quality – a "catch in the throat" if you will.
Shambala is a 45-minute concerto for violin, sitar, and orchestra. (Richard Howard's catalogue of Hovhaness's music lists the playing time for this work as 33 minutes, but I am not sure what that is based on, as this is the first recording and performance.) Hovhaness composed this in 1969 for Ravi Shankar and Yehudi Menuhin; it was Menuhin who commissioned it, following the success of East Meets West in 1967. Shankar and Menuhin never performed it, though, and it has been left to a Shankar pupil, Gaurav Mazumdar, to awaken Shambala from its slumber of 40 years. True to the Indian music that inspired it, the concerto gives its soloists (but particularly the sitar) room to improvise. The orchestra provides a solid substrate for the soloists – imposing even when it is peaceful, and awesome when it begins to threaten. Again, this isn't music in sonata form by a long stretch, but Hovhaness knew how to sustain interest even over long periods, so Shambala works in spite of its length. (The title, by the way, refers to a place of happiness or enlightenment where men and ideas, no matter how different, can be reconciled.) True to the work's title, Mazumdar and Fong perform Shambala with independence of spirit. There's an almost Cage-like feeling of superimposition here … but that's another OgreOgress review! Suffice it to say that this recording fascinated me. Hovhaness is one of those composers whose music sounds easy to grasp, on the surface, but gets more difficult the more that you listen to it, and Shambala is a good demonstration of that phenomenon.
The Slovenská Filharmónia, conducted by Rastislav Štúr, provides sympathetic support in all three works. The disc's inlay credits suggest that the orchestra and the soloists were recorded separately, and given the sound heard on the DVD and the CD, that may well be the case; the perspectives seem different. Be that as it may, the sound here is clear to the point of being not particularly realistic.
The Audio DVD side includes all three works, plus 28 minutes of the composer's wn voice – in an interview with Antony Hopkins, and simply holding forth about religion, mountains, music (his own, and that which has influenced him), and mankind in general. The CD side includes all of Shambala, and one movement each from Janabar and Talin. Program notes on each of the works can be found in a .pdf file on the CD side.
This disc is available from cdbaby.com and Amazon.com. Janabar and Shambala are major additions to the Hovhaness discography, so if you like this composer, you'll want this release.
Copyright © 2009, Raymond Tuttle