CD Review
Thomas Tomkins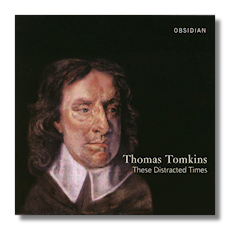 These Distracted Times
Pavan I
Almighty God, the fountain of all wisdom
Hear my prayer, O Lord
The heavens declare
Te Deum (The Fifth Service)
A Fancy
Jubilate (The Fifth Service)
O Lord, how manifold
Pavan VII
I heard a voice from heaven
Magnificat (The Fifth Service)
Pavan for these distracted times
Nunc dimittis (The Fifth Service)
Pavan VIII
Remember me, O Lord
When David heard
My help cometh from the Lord
Fretwork
Alamire
Jamal Sutton, organ
Choir of Sidney Sussex College, Cambridge/David Skinner
Obsidian OBSCD702
Obsidian is a volcanic substance. It was believed to be a magical stone – not least because its black, polished surface can reflect whomever is looking at it. Light from the dark. This thinking is behind the naming of an enterprising new British label… Obsidian. it will concentrate initially on releases of music by major composers from between the C14th and the death of Bach. The company's aims are serious ones: to concentrate on previously unrecorded repertoire; to use new, scholarly editions; to create atmospheric recordings in appropriately chosen venues; to produce performances by leading specialists, and to supplement these with attractively-produced liner notes etc.
We have received three launch CDs from Obsidian for review. These Distracted Times is a selection of a dozen and a half vocal and instrumental pieces (none lasting longer than just under eight minutes or so) by Thomas Tomkins. Tomkins was Welsh but of Cornish origin and lived from 1572 to 1656 – long enough to see King Charles I executed and the British Isles become a republic after protracted Civil Wars. In reactions analogous to those of Elgar at the start of the first world war, Tomkins clearly felt – in the last decade of his own life – that the world and values he knew were being destroyed. English Cathedral music in particular was suppressed by the Puritans under Cromwell, whose face adorns the cover of this excellent CD. This destruction was so substantial that it took generations to recover. Tomkins served as organist at Worcester cathedral from 1596 and associated in one way or another with the great composers of the period, Byrd and Gibbons in particular, and can be thought of as the first English Baroque composer. He introduced, experimented with and refined techniques and genres that had not previously been taken up by major figures from Britain. This CD has a wonderful selection of his music and would make an excellent and persuasive introduction.
It's generally accepted that Tomkins had composed the bulk of his church music (and madrigals) earlier in his life – by the 1620s. Amazingly, most of this substantial output was not published while Tomkins was alive. Only in 1668 did the composer's son, Nathaniel, collect and publish Musica Deo Sacra, which is the source for most of the material on this CD.
Examples of Tomkins' innovation are the adventurously virtuosic passages throughout the vocal works offered here… contrasting textures, intricate vocal lines, delicate harmonies in the Magnificat (tr.11) and Nunc dimittis (tr.13), for example. These – along with the Te Deum (tr.5) and Jubilate (tr.7), form part of the great "Fifth Service". The stance of David Skinner and his forces on the inclusion of instruments for the vocal items is clearly explained in the nicely-written booklet: they do include them – and viols at that.
What may strike you about the music, and almost certainly will about these performances, though, is how straightforward and successful they are at conveying the religious import which Tomkins must have intended. How sober, restrained and uncluttered with potentially spurious "effects". This is achieved in part by emphasis on the words: the texts are particularly clearly articulated by the soloists of Alamire. The attempt, presumably, is indeed to come appropriately close to the experience that worshipers in the seventeenth century would have had. Consequently, there is also a tinge of anxiety and anguish mixed with the adoration. This tension, too, the performers convey very well.
Their style is studied without being stilted. Instead of giving the impression of reticence, though, the singers in particular – and to a lesser extent Fretwork – suggest sorrow, suggest that Tomkins was clinging to styles and priorities that were about to disappear. There could have been resentment on Tomkins' part at the disappearance of religious and social practices and certainties. But they would not necessarily have made for convincing music. Instead it is enough that such pieces as I heard a voice from heaven (tr.10) assert what Tomkins valued. Such music also implies the sudden attenuation of this way of (musical) life thanks to the changes brought about by successive Stuart monarchs' insensitivity – or by over-zealous doctrine on the part of the reformers. Or both!
This balance between joy (as in an earlier piece like A Fancy (tr.6)) and resignation, almost, as is surely intended by the poignant Pavan for these distracted times (tr.12) itself is what gives this CD (only about half of the pieces from which are available elsewhere) its cohesion. In fact, Skinner makes the point in his concise and illuminating notes that those Pavans chosen for inclusion here become darker and darker and really do suggest an ever sharper descent by Tomkins into a kind of despair, which has probably only seen parallels in the last hundred years.
By almost all criteria this is a desirable CD: it's a happy selection of what is otherwise under-recorded, or not at all. It's a great calling card for an under-rated composer whose output is as moving and enlightening as it is varied. It's a great vehicle for the performers to explore the style of the early and mid-C17th British chamber Baroque, particularly contrasting it with the contemporaneous anguish of the likes of Schütz and Scheidt, themselves reflecting the horrors of the Thirty Years War. Without making too much of the wider background against which Tomkins was writing, there is a pleasing unity in this CD. Texts are there in full, the recording is ample yet not expansive. It makes an excellent introduction for Obsidian and sets standards which one somehow feels all those involved are going to revel in living up to and exceeding. Thoroughly recommended.
Copyright © 2008, Mark Sealey