CD Review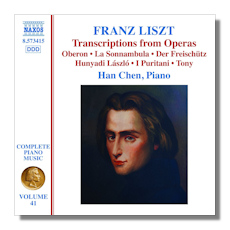 Complete Piano Music, Volume 41
Transcriptions from Operas
Overture zu Oberon von Carl Maria von Weber, S. 574/R. 288
Fantaisie sur des motifs favoris de l'opéra La Sonnambula de Bellini, S. 393/1/R. 132
Schwanengesang und Marsch aus Hunyadi László, von Ferenc Erkel S. 405/R. 160
Halloh! - Jagdchor Und Steyrer Aus Der Oper Tony von Ernst II von Sachsen-Coburn-Gotha S. 404/R. 159
Introduction et Polonaise de l'opera I puritani de Bellini, S. 391/R. 130
Fantasie über Themen aus Webers Der Freischütz S. 451/R. 284
Zweite Festmarsch nach Motiven von E.H.z.S.-C.-G., S. 522/R. 51
Han Chen, piano
Naxos 8.573415 63:23
We have now arrived at volume 41 in this Naxos series of the complete solo piano music of Franz Liszt. As Lisztians are probably aware, Leslie Howard recorded every note Liszt wrote for solo piano for the Hyperion label on 99 CDs. That set received generally positive reviews, though some critics (including this writer) felt Howard occasionally employed hasty tempos and sometimes played insensitively. Naxos is using a number of pianists in its series, though some of them appear on more than one release. I have reviewed more than a dozen titles in this series and have found them generally well played, but noted that the repertory on some of the discs, particularly the transcriptions, might have limited appeal.
This new CD featuring pianist Han Chen is also extremely well played. Chen, who is also a composer, captured first prize at the China International Competition in 2013 at the age of twenty-one. He has Bachelor's and Master's degrees from Juilliard, where his teachers included Yoheved Kaplinsky. This is Chen's debut recording and it is clear that he possesses an all-encompassing technique and interprets the music with intelligence and feeling.
This volume contains mostly rarely encountered repertory, and unless you want Howard's generally more costly discs, this Naxos entry may be of interest. Chen is right on target in every piece, playing with flair, energy and a true Lisztian interpretive sense. The question is, as I hinted above, will you like the repertory?
Liszt had a way of taking source material from other composers and making it sound quite like his own music. That's pretty much the case here: all of the selections sound like Liszt even though you may recognize the themes as the work of another composer. It's all well-crafted, utterly delightful stuff too, chock full of catchy tunes and dazzling virtuoso passages. Yes, it's more confection than meat and potatoes, but it's infectious in its spirit and vigor, in its charm and cleverness. In an ironic twist, it's just the kind of crowd-pleasing music that has given Liszt a bad name in certain pedagogic circles. It's that good or, if you prefer, that bad!
Both the Oberon Overture and La Sonnambula Fantasy are a joy to hear in their effervescence and ingenious keyboard writing. Yes, this music might wear thin over time, but its tunes linger in the mind while you shop or sit in the dentist's waiting room. True, some of the music is bombastic or overloaded with virtuosic filigree, as you notice in the opening pages of Schwanengesang und Marsch. Once this work gets going though, it takes on a bit more substance. Much the same might be observed about the take-off from the opera Tony. The I Puritani piece, at about five minutes, is the shortest work here but perhaps the best: it's genuinely witty in its lightness and builds cleverly to one of those frantic, crazy Lisztian virtuosic endings.
The Der Freischütz is the longest piece (13:30) and features a few serious or at least melodramatic moments. Still, the moods avoid any sense of angst or darkness, though the music at times develops the kind of demonic flair heard in Liszt's Totentanz. The disc's closing piece is the oddly titled Zweite Festmarsch nach Motiven von E.H.z.S.-C.-G. (Ernst II, Herzog [duke] zu Sachsen-Coburn-Gotha ). It's a somewhat bombastic piece in the opening but eventually takes on a purely Lisztian character and builds to a dazzling ending featuring all manner of pyrotechnics. Excellent sound by Naxos. If this kind of repertory appeals to you, you certainly won't be let down by this splendidly played recording by young Han Chen.
Copyright © 2016, Robert Cummings