CD Review
JoAnn Falletta Conducts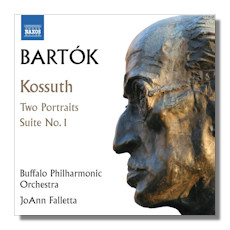 Symphonic Poem "Kossuth", Sz. 75A
Two Portraits, Op. 5, Sz. 37 *
Suite #1, Op. 3, Sz. 60
* Michael Ludwig, violin
Buffalo Philharmonic Orchestra/JoAnn Falletta
Recorded live at Kleinhans Hall, November 22 & 23, 2013 (Kossuth & Two Portraits); October 19 & 20, 2013 (Suite #1)
Naxos 8.573307 69:42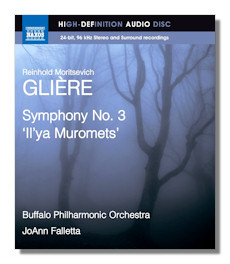 Symphony #3 "Il'ya Muromets", Op. 42
Buffalo Philharmonic Orchestra/JoAnn Falletta
Naxos Blu-ray Audio-only NBD0041 71:37
The Buffalo Philharmonic Orchestra has been appearing pretty regularly now on recordings for the Naxos label. They are proving that there are indeed other very talented orchestras in New York State outside of New York City. But of course we've known that for some time, at least going back to the days of Michael Tilson Thomas, who led this fine Buffalo ensemble from 1971-79. Actually, one could also mention the Rochester Philharmonic Orchestra as another fine New York State ensemble. Since 1999 JoAnn Falletta has served as music director of the Buffalo Philharmonic. She has held several other prestigious conducting posts, including music director of the Virginia Symphony Orchestra, from 1991, a post she still holds. But Falletta has achieved her greatest renown for her work in Buffalo, and rightly so. Here are two recordings of lesser known works that show her great skill at drawing the most out of music that is not top drawer but worthwhile still.
The Bartók works, as the heading indicates, derive from live performances in October and November, 2013. The symphonic poem Kossuth (1903) is a programmatic piece, written by the composer when he was just twenty-two, and it sounds nothing like his later, more familiar work. It divulges the influence Richard Strauss, though it has some folkish characteristics of Hungarian flavor. It's an interesting composition, though obviously it's not among Bartók's stronger efforts. Kossuth has been rarely recorded: this appears to be only the second recording of the work in this century, and over the years there have been but a handful. György Lehel and the Budapest Symphony Orchestra turned in a fine performance in the 1960s on Hungaroton, but that appears to be out of print. This new effort by Falletta would be preferable anyway, not least because the Naxos sound reproduction is vastly superior. Moreover, the Buffalo Philharmonic delivers an utterly spirited and precisely played account of the work.
The Two Portraits (1907-11) is scored for violin and orchestra and was written by the composer for Stefi Geyer, a young violinist he was infatuated with. She never played the work but kept the manuscript, which was finally published in 1959, after her death. The work is dark and lyrical in the first movement (Ideal: Andante), and for once we hear more than just hints of the mature style of Bartók. The very brief second movement (Grotesque: Presto) is indeed grotesque and very imaginatively orchestrated, with winds taking on a sassy, humorous manner. The solo violin is absent in this movement. Overall, this work probably represents the best music on the disc – certainly this piece is the most commonly played of the three. The performance by violinist Michael Ludwig is quite fine and Falletta draws excellent work from the orchestra in this brief work.
The Suite #1 (1905; rev, 1920) may be even more neglected than Kossuth: currently there is only one other recording widely available, the old Antal Doráti, on Decca. Again one notices the shadow of Richard Strauss in the work, but it also has a sort of generic folkish character. Falletta points up the colorful and masterly scoring, as well as the sense of drama in this five-movement, 37-minute piece. She wisely does not play down the occasional moments of bombast, but presents the music in all its vivid colors and youthful energy. I think the folkish fourth movement and joyful finale may contain the best music here. The whole work is played with spirit and accuracy by the Buffalo Philharmonic.
The sound reproduction in all these works is excellent and Naxos provides informative notes by Edward Yadzinski. Bartók aficionados will surely find this a most satisfying disc.
Gliere's Symphony #3 (subtitled Il'ya Muromets) is actually a four-movement suite, each panel being a tone poem depicting an adventure of the Russian warrior Il'ya Muromets, a legendary character from the Middle Ages. The work is considered the composer's magnum opus, and while it has received some attention in the concert hall and on recordings, it's very far from repertory status. There are eight or nine available recordings of it, half of them reissues from the distant past. The Ormandy and Stokowski recordings were heavily cut, and it's been only in relatively recent times that the work has been recorded in its complete form. Falletta offers very brisk tempos, like Leon Botstein on Telarc, who has received mostly positive though perhaps not quite rave reviews.
This effort by Falletta imparts a sense of urgency in the long outer movements, where the playing by the Buffalo Philharmonic is once again very committed and accurate: there is a crispness, edge and energy to their style here, helping to dispel, or at least diminish, the common view this is a bloated, overly elaborate late-Romantic cult piece. The inner movements also come across very convincing, especially the 20-minute second movement, which also needs – and gets – a boost of energy: listen to the creepy strings in the opening, how they slither about threateningly. Falletta conveys a sense of mystery and struggle throughout this movement with her imaginative phrasing and by coaxing top-notch performances from her players. If you admire this work but only have one of the older recordings of it, you will surely find this a most welcome replacement. Listeners having an interest in Romantic or late Romantic music may also find this of great interest. The sound reproduction on this Blu-ray audio disc is superb, utterly sumptuous. Notes by Edward Yadzinski are informative as is a brief commentary on the work by Falletta. An exceptional disc!
Copyright © 2014, Robert Cummings