Related Links
Recommended Links

Site News
CD Review
Muzio Clementi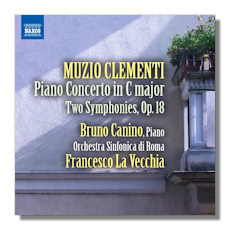 Piano Concerto in C Major (1832)
Minuetto "Pastorale" (1832)
Symphonies, Op. 18 (1787)
* Bruno Canino, piano
Rome Symphony Orchestra/Francesco La Vecchia
Naxos 8.573273 58:19
This program exactly duplicates Academy Sound & Vision CDDCA802 reviewed by Martin Anderson in 1996. I remember finding that disc at a local Salvation Army and choosing not to spend the extra two dollars. When I came back the following day, the Clementi was gone. Naxos has offered me a chance at redemption with these new recordings, but the rewards are questionable.
For one, the Roman forces are no Philharmonia. There are some lapses in string intonation (especially in the Symphonies, Op. 18) that prove unsettling. Clementi proves charming, and occasionally engaging, but the indifferent playing ruins my enthusiasm for music that needs to be played exceptionally well to be taken seriously. The conducting is idiomatic and committed; it's simply the execution that is lacking.
On the other hand, the Concerto in C Major is a lovely work. Clementi's piano writing is underappreciated, but always worth hearing. Here the Roman orchestra plays a supplementary role, and that's fine with me, since Bruno Canino proves a spellbinding soloist. He clearly believes in this music, and he and La Vecchia work well together. Naxos captures the concerto in better sound than in Op. 18, but the whole project is faithfully recorded. Should you love this composer, I must suggest the AS&V issue first, but this is a decent alternative.
Copyright © 2014, Brian Wigman