CD Review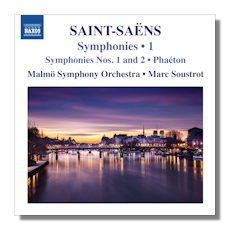 Symphonies, Volume 1
Symphony #1 in E Flat Major, Op. 2
Symphony #2 in A minor, Op. 55
Phaéton, Op. 39
Malmö Symphony Orchestra/Marc Soustrot
Naxos 8.573138 66:06
For years, the definitive set of these symphonies has been Jean Martinon's, to the point where nobody has bothered to produce anything to compete. Sure, there are boatloads of "Organ" Symphony recordings, but only the diehard French music fan has the complete canon of these very elegant and tuneful works. Hot on the heels of the surprisingly excellent program with Leonard Slatkin in Lyon – featuring the "Organ Symphony", no less – Naxos embarks on this projected three-disc cycle with a strong first entry.
I've always liked the composer; for someone known as "the French Mendelssohn", he sure takes a lot of flack. Nobody – well, almost nobody – picks on Mendelssohn for being delightfully tuneful and buoyant. Marc Soustrot clearly knows what he wants to bring to the table, with an orchestra audibly superior to Martinon's old French band. In the Symphony #1, this pays off handsomely. The adagio is especially lovely, with an intelligently balanced harp. It's also paced and phrased in a way that strikes me ideal for finding what dramatic tension this music holds. The finale is typical Saint-Saëns; noble in a very restrained sort of way, well-scored, and very French.
In the Symphony #2, we find a more mature Camille Saint-Saëns exploring his symphonic abilities. While not exactly groundbreaking in terms of emotional or tonal development, there is less Mendelssohn here and more of the composer's own voice. There is tension and depth, and the Malmö Symphony Orchestra plays with both polish and zest. The unique combination of dramatics and effervescence that runs throughout the composer's work is very much in evidence here. Perhaps the music lacks memorable "hum as you leave the hall" tunes, but it's nothing if not refined and expertly crafted. Since the only other recording I'd bother with is Martinon (EMI Pathé Marconi/Musical Heritage Society/Brilliant Classics/Warner Classics), this makes a great supplement, or even first choice, especially if modern sound and superior ensemble tone is a must.
As for Phaéton, this is an exceptional performance. The Malmö Symphony Orchestra sounds terrific and there are moments that are played more brilliantly than anywhere else on disc. It's not often a French tone poem makes me stop writing and simply admire the ensemble work, but this is one of those times. Conductor Soustrot justifies Naxos' claim that he is a French music specialist throughout the program. Martinon was a fabulous and underrated talent during his long and diverse career, but I imagine there would be no one happier that these works are getting another shot. At the Naxos price, and in quality sound, this is a worthy project to invest in.
Copyright © 2015, Brian Wigman