Related Links
Recommended Links

Site News
CD Review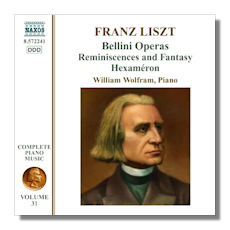 Complete Piano Music, Volume 31
Reminiscences & Fantasy on Bellini Operas
Fantaisie sur des motifs favoris de l'opera La sonnambula, S393/R132
Réminiscences de Norma, S394/R133
Réminiscences des Puritains, S390/R129
Hexaméron (Morceau de concert; Grandes variations de bravoure sur le marche des Puritains), S392/R131
William Wolfram, piano
Naxos 8.572241 79:41
This massive Naxos project to record all of Liszt's piano music marches on with Volume 31. The pianist here William Wolfram, who has appeared on two previous discs in the series (Volumes 20 & 27), is a virtuoso with all the technique and interpretive acumen necessary to tackle these generally difficult Liszt pieces. Wolfram is a two-time silver medalist in major competitions – the William Kapell (1987, when there was no first prize, thus making him the highest finisher) and Naumberg (1983). He certainly captures the full measure of these fairly light and appealing scores by Liszt.
The Réminiscences de Norma is probably the best known piece here and Wolfram invests the music with much power and glitter, and doesn't shortchange the lyrical moments here or in the other Liszt/Bellini works. Hexaméron is a composite work, a set of variations in which six composers, including Liszt, wrote variations on a march from Bellini's opera I Puritani. The march, you might know, comes at the end of the second act. But Liszt wrote considerably more of the work than the others, a group that included Thalberg, Pixis, Herz, Czerny and Chopin. Liszt composed the introduction and statement of the march theme, the second variation, various bridge passages and the Finale. Like the other works here, the piece is light and contains a healthy dose of bravura writing. But because it contains music by such a disparate array of composers, it's delightfully chameleonic, even though much of it is virtuosic and often carries the spirit, if not the actual voice of Liszt. Here and in the other works Wolfram invests the music with every ounce of commitment with his robust tone, epic sense, seemingly flawless technique and grasp of Liszt's kaleidoscopic palette. The sound is vivid and powerful and Keith Anderson, as usual, provides enlightening notes. Recommended.
Copyright © 2010, Robert Cummings.