CD Review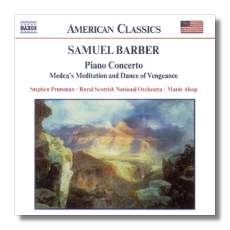 Concerto for Piano, Op. 38
Die Natali - Christmas Préludes for Orchestra, Op. 37
Médea's Meditation and Dance of Vengeance Op. 23a
Commando March
Stephen Prutsman, piano
Royal Scottish National Orchestra/Marin Alsop
Naxos 8.559133
Marin Alsop's Barber discs for Naxos go from strength to strength. Anyone interested in this American composer's orchestral works could do no better than to follow this series, in which this is the fourth release.
The Piano Concerto is the big work here. Completed in 1962 (and awarded the Pulitzer Prize in the following year), it translates all the drama and romance of the classic late 19th-/early 20th-century piano concerto into a more modern language, without sacrificing any of the genre's popularity, and without condescending to the listener. The concerto demands athletic power from the soloist as he negotiates trickily angular and motoric passages, particularly in the last movement. (One wonders if Barber's style was influenced by his trip to the Congress of Soviet Composers, in between writing the second and third movements.) Elsewhere, there is plenty of gratifying melody, although more in the style of Poulenc than of Rachmaninoff. Prutsman's name was not familiar to me, but he has impressive curriculum vitae, and he plays this concerto with authority, even if he doesn't quite efface the recorded performance of John Browning, the concerto's first soloist.
Médea's Meditation and Dance of Vengeance is stylistically similar to the Piano Concerto – again, particularly in the brutal last movement. Barber started work on a ballet based on the Médea story around 1946, but he tinkered with the music for more than a decade; this excerpt – really a condensed version of material from an earlier ballet suite – was premièred in 1956 by the New York Philharmonic. Subsequently, conductor Thomas Schippers recorded Médea's Meditation and Dance of Vengeance with the Philharmonic, a version that remains unsurpassed. Alsop comes closer than almost any other conductor, however, in capturing its ritualistic obsession and viciousness.
Written for Charles Munch and the Boston Symphony Orchestra, Die Natali is a fantasy on Christmas carols. Barber's skill in assembling and orchestrating this 17-minute work is beyond question. Ultimately, though, Barber's reverence to the melodies seems to have prevented him from leaving too many fingerprints on the score, and the result is a little bland. Still, it's a nice holiday potpourri. The Commando March, written in 1943 for band – later arranged for orchestra – is uncharacteristic: Barber the flag-waver. I won't say it's not a rather fun piece, though.
Like Schippers, Alsop knows how to tighten the screws, and also how to loosen them. Tension without hysteria and release without slackness must be her watchwords. The Royal Scottish National Orchestra, as on the previous releases, gives her its all. Recorded over almost two years, and in two different venues, the engineering is as consistent as the excellence of the performances – a tribute to producers Andrew Walton and Peter Newble. Recommended.
Copyright © 2003, Raymond Tuttle