Related Links
Recommended Links

Site News
CD Review
George Rochberg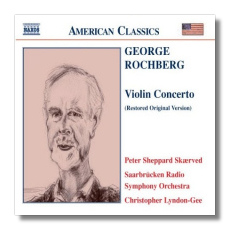 Violin Concerto
1974 rev. 2001 by Christopher Lyndon-Gee in collaboration with the Composer
Peter Sheppard Skærved, violin
Saarbrücken Radio Symphony Orchestra/Christopher Lyndon-Gee
Naxos American Classics 8.559129 52 mins
George Rochberg (b. 1918) wrote his violin concerto in 1974 and it had a great success with Isaac Stern, who unfortunately persuaded the composer to cut it by fourteen minutes for the comfort of audiences and his own. That version had bewildered Peter Sheppard Skærved, and he welcomed the reconstruction of the original for its 'restoration of structural unity and a coherence which had eluded me in the past '. The story, told in detail by Christopher Lyndon-Gee and Peter Sheppard Skærved, is saddening – it reminds one of Bruckner's acceptance of ill-advised revisions, later rejected in favour of original versions. (Stern's recording seems to be now unavailable and I do not know if the concerto ever crossed the Atlantic?)
In two huge parts, with several cadenzas on the way, it is demanding for technique and endurance. I have not been equally impressed with a first hearing of a major violin concerto of the period since first hearing Oistrakh play Shostakovich's first. And I think it is of comparable calibre, having played it through twice on the day it arrived. I well understand that Peter Sheppard Skærved (who has worked with the composer) found the 'new/old' version easier to learn, with its 'sense of natural ebb and flow – revealing intimacy at the heart of this monumental work '.
Rochberg is a complex composer who eschewes 'originality' at all costs. His music deceptively approachable; embracing instead 'all manner of opposites, contradictions, paradoxes: the past with the present, tonality with atonality '. An exciting introduction to a composer who has been largely overlooked in UK.
The studio recording of April 2002, completed over three days in Saarbrücken with a large radio symphony orchestra, is superb, creating a warm acoustic environment around Peter Sheppard Skærved's quite remarkable account of the solo part; beautiful tone, immaculate intonation, and no sense of strain.
Another Naxos bargain with suitably comprehensive notes by arranger and soloist; don't hesitate!
Copyright © 2004, Peter Grahame Woolf