CD Review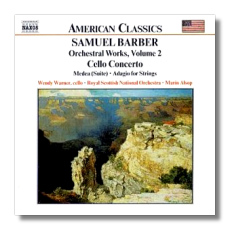 Orchestral Works, Volume 2
Concerto for Cello
Médea: Ballet Suite
Adagio for Strings
Wendy Warner, cello
Royal Scottish National Orchestra/Marin Alsop
Naxos 8.559088 DDD 65:58
This is Volume Two in Naxos' series of Samuel Barber's orchestral works. I called Volume One "the best new recording of Barber's music to come my way in a long time," and this second volume is almost as desirable. Alsop, a student of Bernstein and Ozawa, is a little more restrained here. It is actually refreshing not to hear the Adagio for Strings played as a sob-fest. Alsop doesn't wring the last few tears out of it, thereby ensuring that the music retains the sophistication that it can lose in more sodden readings.
Barber's Cello Concerto, written shortly after he was discharged from the United States Air Force in 1945, has "established itself only at the margins of the repertoire," in the words of booklet note author Richard Whitehouse. (Virgil Thomson, the dean of American music critics, thought it compared well to the work of Brahms.) Nevertheless, Yo-Yo Ma made an excellent recording of the concerto with David Zinman for CBS/Sony in 1988, and Steven Isserlis recorded it with Leonard Slatkin for RCA Victor in 1994, so new recordings seem to come at six-year intervals. Warner and Alsop are the slowest of the three by several minutes, particularly in the final movement. Their interpretation is more lyrical and darker than Ma/Zinman's and Isserlis/Slatkin's. If you want a brilliant, driving interpretation of this score, Warner/Alsop might not satisfy. I think that this reading has a lot of integrity, however, and it offers an alternative to the other two, not just an echo. Warner is a rising star, and it probably won't be long until she is making recordings for the full-priced labels.
It is more common to record just "Médea's Meditation and Dance of Vengeance" from the ballet score that Barber wrote for Martha Graham. That 12-minute condensation effectively concentrates the score's tensions into a small, bitter, and intense package. The complete suite, as recorded here, appears less often. One notable recording was done by Howard Hanson and the Eastman-Rochester Orchestra in 1959 (Mercury Living Presence 432 016-2). Again, Alsop is more expansive throughout most of the score, less willing to "bite" than just about any other conductor I've heard record this work, or portions of it. It was supposedly Graham's and Barber's intention that the ballet represent not just Médea and Jason, but the universality of their passions. Alsop's thoughtful reading – one that doesn't lack passion, however – might do just that.
As on the earlier disc, the Scottish orchestra plays splendidly, and the engineering, which features 24-bit technology, surpasses that found on older discs. A keeper.
Copyright © 2001, Raymond Tuttle