CD Review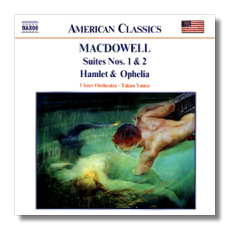 Suites
Suite #1
Suite #2 "Indian"
Suite "Hamlet & Ophelia"
Ulster Orchestra/Takuo Yuasa
Naxos 8.559075 DDD 63:50
The last time that the music of Edward MacDowell was fashionable was in the 1950s. Since then, he has been ignored or dismissed as an imitator of Europeans such as Liszt (who encouraged him) and his composition teacher Joachim Raff. The piano concertos get dusted off occasionally by virtuosos (Van Cliburn recorded the second), and some of the simpler piano works (usually "To a Wild Rose") appear on amateur piano recitals.
The two suites recorded here were quite popular at one time. They both were written in the early 1890s, shortly after MacDowell returned from his studies in Germany. The first suite, when it is isn't illustrating or describing, it is at least directing visual impressions at the listener. (MacDowell seemed least happy with absolute music.) The five sections are "In a Haunted Forest" (nothing here would have frightened Mendelssohn), "Summer Idyll," "In October," "The Shepherdess Song," and "Forest Spirits." The acorn hasn't fallen far from the tree; MacDowell's idiom and talent are much like his teacher Raff's. This is Romanticism's full flowering, minus the Sturm und Drang, and minus the ingenuity of an Edvard Grieg, for example. MacDowell was an excellent composer of picture postcards, however, and there's nothing wrong with that.
MacDowell took a swipe at Dvořák, writing, "Masquerading in the so-called nationalism of Negro clothes cut in Bohemia will not help us." If a national style was wanted, he believed that "the stern but at least manly and free rudeness of the North American Indian" was a more appropriate model. The second suite puts theory into practice. The five movements ("Legend," "Love Song," "In War-time," "Dirge," and "Village Festival") are united by the Native American theme, and so it is a stronger work than the (albeit charming) Suite #1. Supposedly some of the themes are taken from the Iroquois, Chippewa, and Iowa tribes, but this is anything but obvious to me. Ironically, there are many sections of this suite that sound Germanic or Slavic. The closing "Village Festival" wouldn't be out of place in The Bartered Bride.
The disc is rounded out with the 13-minute Hamlet & Ophelia. These two early tone poems were later folded together (although not entirely convincingly) by the composer. Unlike Tchaikovsky's fantasy-overture on this subject, MacDowell's is all atmosphere and character study; there is no swordplay, no ghostly goings-on. There are Wagnerian echoes, including an allusion to the "Longing" theme from Tristan und Isolde, yet the scale is intimate and largely unpretentious.
How do a Japanese conductor and an Irish orchestra cope with this American music? The answer is: quite well. The playing is secure and the interpretations are level-headed rather than especially persuasive. At any rate, this recording eclipses the ones that were current in the 1950s, so don't hesitate if you are curious about MacDowell.
Copyright © 2001, Raymond Tuttle