CD Review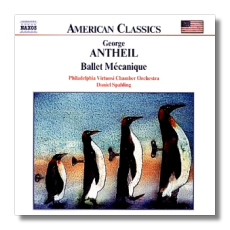 Ballet Mécanique
Ballet Mécanique (1953 revision)
Serenade for String Orchestra #1
Symphony for Five Instruments (Second Version)
Concert for Chamber Orchestra
Philadelphia Virtuosi Chamber Orchestra/Daniel Spalding
Naxos 8.559060 DDD 59:05
At last, a major recording of Antheil's controversial Ballet méchanique. I say 'major' because the work was recorded by the less-prominent label Electronic Music Foundation, in a complete version that is still available at the label's website, but probably from only a few other outlets. This Naxos CD, which costs less than half of the EMF one, captures the tamer 1953 revision made by Antheil, and while it contains about half the music heard at the notorious 1926 Paris première, it retains its wild spirit. It's hard to call that performance the original version, since Antheil first scored the piece for four player pianos in 1924, then added xylophones, percussion, standard pianos, airplane propellers, siren and other instruments for a second version, and then revised the work once more for the première.
The music in Ballet méchanique is something few people are likely to forget, even from just one hearing. Play it for friends, or, better yet, for teenagers who think classical music is stuffy, straitlaced fare. They'll take notice: driving rhythms and bell-like sonorities abound, as the music relentlessly moves forward in a mechanical manner, owing mainly to the hyperactivity of the pianos and xylophones (four and two each, respectively, in the revised version). The work can be described as a 1920s view of space-age music. Yet, it isn't as avant garde-sounding as you might think, having an ebb-and-flow sense and a graspable structure. In the end, anyone interested in landmarks of 20th century orchestral music will want this excellently-played and – led performance on Naxos. Kudos to Spalding and his players and Naxos' fine engineers.
If this CD had nothing else on it than this fifteen-minute work, it would still be worth the smallish asking price, but it has substantially more. The Serenade for String Orchestra is an interesting, if not entirely successful work, whose third movement contains an unusual mix of Americana and Shostakovich. The Symphony for Five Instruments was the piece which helped establish Antheil upon his arrival in Paris in 1924. Heard here in the second and presumably superior version, the work, as Joshua Cheek's incisive notes point out, divulges a Stravinskian influence, as does the Concert for Chamber Orchestra, another intriguing, if not entirely successful work. The latter pair of compositions are for wind instruments (with percussion in the Symphony).
As in the Ballet méchanique, the performances of these other works are never less than compelling, and Spalding's interpretations never drag or hurry unwisely, or turn toward the eccentric. Naxos provides excellent sound, scoring another unqualified success in its American Classics series.
Copyright © 2002, Robert Cummings