CD Review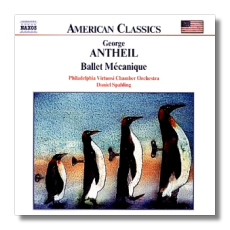 Ballet Mécanique
Ballet Mécanique (1953 revision)
Serenade for String Orchestra #1
Symphony for Five Instruments (Second Version)
Concert for Chamber Orchestra
Philadelphia Virtuosi Chamber Orchestra/Daniel Spalding
Naxos 8.559060 DDD 59:05
George Antheil's Bad Boy of Music is one of the most entertaining autobiographies ever written by a musician. In part, that is because Antheil was more than just a composer and a pianist - he wrote a book on endocrine criminology, he wrote a love-advice column for Esquire, and he (with actress Hedy Lamarr!) invented the radio-controlled torpedo. Antheil's book makes these remarkable deeds sound natural for the son of a shoe salesman from Trenton, New Jersey. Oddly enough, Trenton, New Jersey (specifically, the County Ballroom in the War Memorial) is the site where this new recording was made!
Early in Bad Boy of Music, Antheil describes how, upon their first meeting, he presented the first version of his Symphony for Five Instruments to his idol, Igor Stravinsky, in the lobby of Stravinsky's Parisian hotel. The older composer was sufficiently impressed by the first meeting to invite Antheil to return for lunch the next day, and a friendship ensued. Stravinsky might well have agreed that imitation is the sincerest form of flattery, because the Symphony for Five Instruments, which is as lean and clever as music can be, sounds much like the older composer's Symphonies of Wind Instruments. The central movement, with its vaguely Middle Eastern atmosphere, is something else, but it still shows the composer's Stravinskian preoccupation with both precision and concision.
The Concert for Chamber Orchestra, written at the end of Antheil's sojourn in Paris, also is strongly Stravinskian. The biggest difference - which is not readily apparent to listeners - is that Stravinsky disliked composing according to formula; he was not a "method" composer. Antheil was much more dependent on short rhythmic or melodic "modules" that could be duplicated, moved around, and recombined like modern Swedish furniture. Antheil's Concert, while not a greatly "important" work, is refreshing because it contains no padding at all, and also because it engages the listener's intellect without appealing to his emotions.
The Serenade for String Orchestra #1 (1948) shows other Russian influences – specifically, those of Prokofieff and Shostakovich. (When similar claims were made about his Fourth Symphony, Antheil, it must be stated, denied them, saying that he had beaten Shostakovich to those "influences" by several years!) Again, it is the middle movement that is most original. Series of foreboding tremolos, against which solo instruments take turns playing, create an unsettled feeling that is quite unlike the unsettled feeling one gets from Prokofieff's and Shostakovich's music!)
The "star" piece on this CD, however, is the Ballet Mécanique. It is this work that established Antheil's "Bad Boy" reputation. Originally, it was scored for a phalanx of player pianos, buzzers, airplane propellers, xylophones, and a host of other percussion instruments. Also, it was intended to be accompanied by a surrealist film of machinery in action. (About 15 years ago, I was lucky enough to see it performed just this way at
the Eastman School of Music.) In time, Antheil realized that his original scoring was impractical, and he revised the work several times. The 1953 scoring is heard here: glockenspiel, two propellers, gong, cymbal, woodblock, triangle, snare drum, tambourine, electric bells, tenor drum, bass drum, two xylophones, and only four (!) pianos. Brittle, nervous, and funny, it sounds like a more sinister cousin to Stravinsky's Les noces. (The two scores premièred at about the same time.)
The Philadelphia Virtuosi Chamber Orchestra was founded in 1991 by conductor Daniel Spalding. Their highly accomplished performances, while perhaps a little reserved, are admirable in that they "keep a straight face" - a characteristic that would have pleased Antheil, I am sure. The dry sound is ideal - the bass drum of the Ballet Mécanique, for example, is reproduced with a clean, heart-stopping thud.
Copyright © 2001, Raymond Tuttle