CD Review
Paul Creston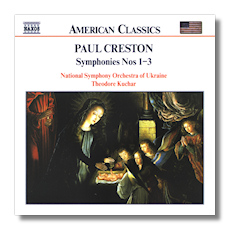 Symphonies #1-3
Symphony #1, Op. 20 (1940)
Symphony #2, Op. 35 (1943)
Symphony #3 "Three Mysteries", Op. 48 (1950)
National Symphony Orchestra of Ukraine/Theodor Kuchar
Naxos "American Classics" 8.559034 DDD 72:39
Okay, I concede. In a previous review of the "American Classics" series from Naxos I opined that it would be nice if they used American orchestras. So, when this arrived I pulled out my recording of "Three Mysteries" with Gerard Schwarz and the Seattle Symphony on Delos. No contest. This Naxos recording beats the U.S. team in every way.
What is his music like? Well, it is nothing like Copland or Thomson, which means I like it. When I was younger I loved Aaron and Virgil, but now I am older and appreciate the differing nuances I hear in American composers such as Creston or Piston. Now, Creston's music is not "like" Piston's except in its differing from the "accessible" music of the two more popular composers mentioned. There are moments in each of Creston's symphonies where Respighi comes to my mind. That is, Creston's music is wonderfully orchestrated with shades of meaning that lie beneath the surface. If you still aren't sure what I mean, it is perhaps because there are not a lot of comparisons to give you, only contrasts. Let me try again, Stokowski loved Creston's 1st Symphony so much that he frequently played the second movement in concert as an encore. If Stokowski loved it you have some idea what is must sound like.
Okay, maybe this will help. The second symphony sounds like the music a high school drop out who smoked coffee beans to stay awake would write. Now, those are accurate biographical facts. I also learned that he was an organist in silent movie theaters. There are elements of the film in his music, but, again contrast, not like Korngold or others in that vein. There are just a lot of things going on in this symphony.
The third is where I was able to make some specific comparisons, and, again, contrast is more like what I hear. In this case the recording has some to do with it. The Naxos disc has better depth of perspective, is more reverberant and yet there are more details to be heard. Again, I notice a Naxos tendency in their recordings where the woodwinds are particularly noted and have an almost burnished sound. This piece is based on Gregorian chants. That is, if you can appreciate a Gregorian chant heard with an American accent. Each of the three movements "depicts" an episode in the life of Christ: Nativity, Crucifixion and Resurrection. Listening to just the opening moments of the two recordings, the Naxos has a feathery sheen on the violins that is completely absent in Seattle. That is only one of several places where I hear details that just are not in the Delos recording. The bottom line is that I found the Schwarz interpretation (perhaps due in part to the recording) less involving. Keep in mind that I actually anticipated just the opposite reaction. Here is me, expecting an American orchestra to do better than a Russian one. Frankly, the Ruskies sound American enough to me.
I cannot tell you how much we owe to Naxos for this series of recordings. So much is now available for the first time. Whereas before all we could do was read about the music, now we can hear it. While I may prefer Piston and Creston to Copland or Thomson, that is a matter of preference and comparative recordings, at least for three of these four composers, are few or non.
Good stuff here at any price.
Copyright © 2000, Robert Stumpf II