CD Review
Paul Creston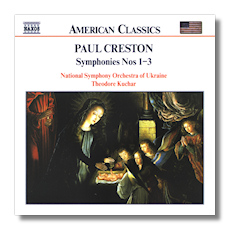 Symphonies #1-3
Symphony #1, Op. 20 (1940)
Symphony #2, Op. 35 (1943)
Symphony #3 "Three Mysteries", Op. 48 (1950)
National Symphony Orchestra of Ukraine/Theodor Kuchar
Naxos "American Classics" 8.559034 DDD 72:39
Paul Creston's name was self-fabricated (he was christened Giuseppe Guttivergi), but his emotionally generous music hints at his Italian heritage. He was born in New York City in 1906, and he died in California in 1985. In between, he wrote a great deal of music for the concert hall, radio, and television. He also excelled as a teacher, and he wrote texts about rhythm and harmony. Nevertheless, he was almost entirely self-taught.
For a time, Creston's music was almost forgotten, but the last two decades have been a time of rediscovery. Although these are not première recordings, this disc of the first three of his six symphonies is a major event, and another feather in the cap of Naxos' "American Classics" series.
Critic and composer Lazare Saminsky suggested that Creston's style had its basis in genetics: "The inbred Italian taste for descriptive and operatic power and for massed colour is, of course, greatly involved and not always easily traced in Creston's mode de penser. But there is a harsh kind of dramatic coloring in his music, that flowing from Puccini rather than Bellini." Actually, the composer who comes to my mind most frequently when I hear these symphonies is another Italian: Ottorino Respighi, who certainly was a master of what might be called "harsh dramatic coloring." Creston believed that he simply strove "to incorporate all that is good from earliest times to the present day. […] I make no special effort to be American: I conscientiously work to be my true self, which is Italian by parentage, American by birth and cosmopolitan by choice."
The First Symphony, composed in 1940, and performed first by Fritz Mahler and then by Eugene Ormandy and Leopold Stokowski, is in four movements: "With Majesty," "With Humour," "With Serenity," and "With Gaiety." It might be considered an American "Four Temperaments" Symphony. Overall, it is very appealing and straightforward, with elements that will appeal to simple "music-lovers" as well as to more analytical types. It won the New York Music Critics' Circle Award in 1941. The Second Symphony was composed in 1944, and it received its première a year later, with Artur Rodzinski conducting the New York Philharmonic. Its two movements ("Introduction and Song" and "Interlude and Dance") achieve organic unity through Creston's melodic and rhythmic transformations of a theme that appears right at the start of the symphony. Most listeners won't be conscious of how this symphony works, but they will immediately feel its power, color, and fierce will to communicate. The "Dance" section becomes quite brilliant – something like a South American take on the finale to Ravel's Daphnis and Chloé. "Three Mysteries," the Third Symphony, refers to the birth, crucifixion, and resurrection of Christ; each event gets a movement of its own. Creston's intention, however, was not to be programmatic, but rather to convey his emotional impressions (joy, tragedy, then triumph) to the listener. Most of the thematic material is derived from Gregorian chants. The Respighian quality is strongest in this symphony; the Italian's Church Windows would be an intriguing concert-companion for Creston's Third. It was completed and premièred in 1950; Ormandy conducted the Philadelphia Orchestra.
Kuchar relishes this music's drama. His Second, for example, is more striking than David Amos's Koch International Classics recording from 1990 (3-7036-2H1). The orchestra occasionally sounds a little hoarse, but this is no way detracted from my enjoyment of this recording. I encourage Naxos to press forward with recording the last three symphonies, and then to turn to the concertos that Creston wrote for trombone, marimba, accordion, and other instruments that seldom are so favored.
Copyright © 2000, Raymond Tuttle