CD Review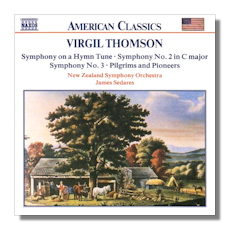 Symphonies
Symphony on a Hymn Tune (1928)
Symphony #2 (1931/41)
Symphony #3 (1972)
Pilgrims and Pioneers (1964)
New Zealand Symphony Orchestra/James Sedares
Naxos 8.559022 DDD 64:21
Virgil Thomson (1896-1989) wielded a lot of power. For years, he was a forceful music critic for The New York Herald-Tribune and elsewhere. He studied in Paris with Nadia Boulanger, and later, he himself taught, and was a role-model for, young composers. He wrote prolifically, but today his music is played less often than his words are quoted. Leonard Bernstein commented, "We all loved his music and rarely performed it."
Thomson's music hasn't exactly been missing from the CD era, but discs come and go, and few have managed to hold their place in the catalog for very long. This new CD, part of Naxos' lauded "American Classics" series, is welcome, not just for the key works that it contains, but for the sympathetic performances by Sedares and the New Zealand orchestra.
The music of Virgil Thomson has been likened to a print by Currier and Ives. If the author of this statement, Paul Rosenfeld, meant that Thomson's works are simple, charming, naïve, and even a little gauche, then I agree. Currier and Ives prints are never knowing, however, a quality that I associate with Thomson's work. Hearing Thomson gives me the same feeling that I get when reading Henry James – I ask myself, "Is he pulling my leg?" With Thomson, the answer is almost certainly "perhaps." What architect would build houses out of matchsticks and paste unless he was trying to make a statement? Thomson's musical materials are little brave tunes – sometimes borrowed – that unpremeditatedly climax their artless lives by staggering into a victory celebration or by blundering into a rural ditch. In this, they are typically American. There's more to them than meets the eye. In this, they are typically American as well.
Exhibit A is the Symphony on a Hymn Tune, begun in Paris in 1926. There's little that's devout about it. The "hymn tune" in question is associated with Southern Baptists, and its melody, harmony, or rhythms are the basis of each of the four movements. It can't be said that Thomson lampoons it, precisely, but the telling phrase "naïve religious gaiety" – cited in the booklet notes – speaks volumes. The Second Symphony (composed in 1930, reorchestrated in 1941) also exploits the fun side of iconoclasm. Wilfred Mellers wrote about Thomson's penchant for "deliberately disrupting musical grammar and the logic of connection," and that's as good a description as any for what goes on in the Second Symphony. Pilgrims and Pioneers (1964), never recorded until now, started out as the soundtrack to a documentary film about immigrants. In Thomson's words, the film is "humane, grandiose, and touching," and so is the "nostagically dissonant" music, which sounds like a perversion of a grade-school songbook. Finally, the Third Symphony (1972) contains music derived from a string quartet by way of an opera, so it really is not a late work at all. Thomson's disjointed iconoclasm is less in evidence here, and this might be the best place to start for those who have yet to experience Thomson's strangely familiar and familiarly strange music.
Sedares and his orchestra have shown their mettle in American repertoire before, and there are no disappointments here. These performances seem better played and better recorded than their predecessors. Howard Hanson's Eastman-Rochester recording of the Symphony on a Hymn Tune scores points for nostalgia, but I think I will be turning to Sedares the next time that I want to hear this music.
Copyright © 2000, Raymond Tuttle