Related Links
Recommended Links

Site News
CD Review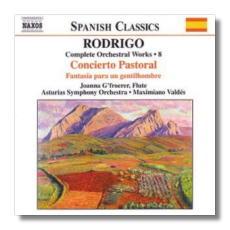 Complete Orchestral Works, Volume 8
Concierto Pastoral *
Fantasía para un gentilhombre * (arr. Galway)
Adagio para instrumentos de viento
Dos miniaturas andaluzas
* Joanna G'froerer, flute
Asturias Symphony Orchestra (OSPA)/Maximiano Valdés
Naxos 8.557801 DDD 62:36
This is Volume 8 in Naxos' continuing series of Joaquín Rodrigo's complete orchestral works. Despite the use of regional Spanish orchestras mostly unfamiliar outside of the country's borders, the performances have been pretty first-rate so far, and this new volume is one of the best yet. It is anchored on either end by two large concertante works for flute and orchestra, and there are two shorter pieces in the middle. One of them is a real jewel.
Rodrigo wrote the gorgeous Concierto Pastoral for flutist James Galway, who premièred it in October 1978. It has "time stands still" middle movement that is immediately memorable. Galway liked it so much that he wanted more Rodrigo to play, so he decided that the Fantasía para un gentilhombre (Fantasia for a gentleman), originally composed in 1958 for guitar and orchestra, would work nicely for flute and orchestra. Galway did the arrangement himself, with Rodrigo's permission (and supervision). The results are idiomatic – you'd never guess that the Fantasía wasn't originally written for this combination of instruments. Galway recorded the two works for RCA Victor; the CD is a little hard to find. Not to worry, though. Joanna G'froerer is a Canadian flutist in her young 30s. Her performances are much more introspective than Galway's, but the music certainly supports her softer-edged playing, which really is very beautiful.
The "Two Andalusian Miniatures" are quite early works, from 1929, although they weren't premièred until seventy years later. Barely five minutes long, they are scored for strings alone. They're lack anything truly distinctive, but they make a nice bridge between the Concierto Pastoral and the "Adagio for Wind Instruments," which was composed in 1966. The nostalgic yet shifting moods of this ten-minute work are very similar to that of the famous middle movement of the Concierto de Aranjuez. This work was written for the American Wind Symphony Orchestra in Pittsburgh. It's the "find" on this CD.
As already suggested, the performances on this CD are more than up to par, and the engineering leaves nothing to be desired as well. Proceed without hesitation!
Copyright © 2004, Raymond Tuttle