CD Review
Akira Ifukube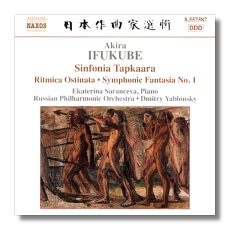 Sinfonia Tapkaara
Ritmica Ostinata
Symphonic Fantasia #1
Ekaterina Saranceva, piano
Russian Philharmonic Orchestra/Dmitry Yablonsky
Naxos 8.557587 DDD 60:45
This is another interesting release in Naxos' "Japanese Classics" series. Picture a man sitting in a hut composing by the light of a lamp, circa 1940. This would be Akira Ifukube, who was born in 1914 on the island of Hokkaido. A self-taught composer, he was influenced by modern classical music from the West on one hand (Stravinsky's Le sacre du printemps, in particular) and by the music of Hokkaido's indigenous Ainu on the other. His formal education was in forestry, and it wasn't until after World War Two that Ifukube decided to devote himself fully to music. In spite of his interest in Stravinsky, Ravel, and the like, he rejected the avant-garde trends of the late 1940s and 1950s, and continued to compose in what was a rather reactionary style, paying particular attention to Japan's ethnic music. Apparently, he still is alive, although I don't know if he still composes.
The three works on this CD are attractive, and certainly not limited to Asian audiences in their appeal. "Tapkaara" refers to a type of Ainu dance, and the finale of the Sinfonia Tapkaara (1954, rev. 1979) definitely evokes of a celebration far from lights and crowds of Tokyo. All three movements make prominent use of pentatonic scales, although listeners might be as likely to associate the music with native American peoples as with native Japanese. The symphony was premièred in 1955, not in Japan, but by the Indianapolis Symphony Orchestra (!), and with its driving rhythms and bold melodic outlines, I am sure that the symphony was a success. Ritmica Ostinata for piano and orchestra was written in 1961. Although the piano plays an important role in this work, it is not a concerto in the usual sense of the word. The piano is treated percussively – it is, after all, technically a percussion instrument. As its name suggests, ostinato elements are prominent in this work. So are meters based on five and seven, which give the music an angular quality which is not at all unpleasant. Here, instead of pentatonic scales, Ifukube emphasizes six-note hexatonic scales. Again, the music's mood is ritualistic and almost fiercely celebratory, and one can hear a link with Le sacre du printemps.
The Symphonic Fantasia #1 might have you thinking of Saturday afternoon television, and that is because the Fantasia is something of a medley of music Ifukube wrote for various Godzilla (and other monster) movies, including Godzilla, King Kong vs. Godzilla, and Ghidrah. (Ifukube wrote many film scores after World War Two.) The Fantasia could work on almost any "pops" program, Asian or Occidental, as it is more cosmopolitan in style than the other two works on this CD. Almost needless to say, it is a lot of fun.
Why shouldn't Russian artists record little-known (outside of Japan, anyway) Japanese music? They do an excellent job with its driving rhythms and exciting primary colors. These performances sound assured, and I bet the performers had even more fun performing these works than I had hearing them. This CD would make an inexpensive and unusual stocking stuffer for that curious music-lover on your holiday list.
Copyright © 2005, Raymond Tuttle