CD Review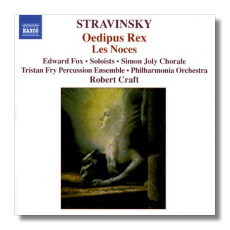 Oedipus Rex 1
Les Noces 2
1 Andrew Greenan, bass
1 David Wilson-Johnson, bass-baritone
1 Edward Fox, speaker
1 Jennifer Lane, mezzo-soprano
1 Joseph Cornwell, tenor
1 Susan Bickley, mezzo-soprano
1,2 Martyn Hill, tenor
2 Alan Ewing, basso-profoundo
2 Alison Wells, soprano
1 Simon Joly Male Chorus
2 Simon Joly Chorale
2 International Piano Quartet
2 Tristan Fry Percussion Ensemble
Philharmonia Orchestra/Robert Craft
Naxos 8.557499
I can vividly recall the scene: Stravinsky conducting an orchestra during a recording session, probably in the early-1960s, with Robert Craft in a control booth nearby, warily overseeing the proceedings. Suddenly Craft stopped the performance, noticing that one of the players – or sections of the orchestra (I don't recall that detail so vividly) – had not come in on time. All the while Stravinsky stood clueless as to what had happened, but he went along with Craft and the performance soon re-started.
That snippet – and much else that was revealing – had appeared several decades ago on, if I remember correctly, a PBS television special about Stravinsky. Robert Craft was Stravinsky's longtime assistant, a prime force in motivating the great master to adopt 12-tone composition late in his then-declining career. That change in style was a mistake, I'm convinced, but that's another issue. Craft was not only tremendously influential on Stravinsky, but he prepared orchestras in rehearsal for the composer and, as we learned years after the fact, led certain performances of Stravinsky's works in the famous Columbia series, when the composer was actually credited as conductor.
Craft is arguably the foremost expert on Stravinsky's compositions. It's surprising that following the composer's death he has recorded relatively few of his works. Thus it is good to have this latest Naxos issue of two important compositions, part of a new cycle by Craft that will encompass all the Russian master's orchestral works.
This Oedipus should have a lot going for it, then. Well, it does, in fact, even if there are a few rough spots here and there. This is one of those performances that get stronger as they proceed. Martyn Hill, as Oedipus, exhibits a vibrato that's a little annoying early on and the chorus at times sounds a little hazy, not as crisp as on other recordings, like the Levine/DG and Ančerl/Supraphon. But tension quickly accumulates, Hill gets stronger, and this becomes a riveting performance, certainly a candidate for the best ever in this work.
Jennifer Lane's Jocasta is excellent and Naxos' sound is vivid. But, of course, it's Craft who is the driving force here, drawing fine playing from the Philharmonia Orchestra, generally thought to be London's (and England's) finest orchestra. Just about every tempo is perfect, Craft knowing when to push ahead or when to pull back. Not that there is a lot of rubato or taffy-pulling going on here – no, Craft simply knows how to infuse this score with drama and darkness, capturing all the elements of black comedy and tragedy that fill the score. The only complete disappointment is the speaker, English actor Edward Fox, whose rather stiff manner is simply at odds with the spirit of the performance. And his pronunciation of the title character as "Ee-dipus" is downright odd. Still, that cannot sabotage the generally superior quality here: this is an excellent performance overall, and if Oedipus Rex alone were on this CD, it would warrant the highest recommendation. But there's more, considerably more here.
Les Noces is another Stravinsky masterpiece and it serves as a filler to a work which usually occupies a CD alone. Again Craft gives an excellent reading and his vocal and instrumental forces come through perhaps even more impressively. Alison Wells and Andrew Greenan are particularly notable here, as are the Tristan Fry Percussion Ensemble and International Piano Quartet. Naxos provides vivid sound once again, thus rounding out one of the finest issues in their or anyone else's catalog in recent years. Highest recommendations!
Copyright © 2005, Robert Cummings