CD Review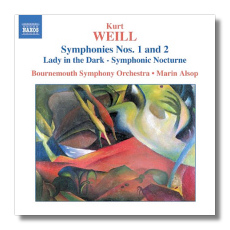 Symphonies
Symphony #1
Symphony #2
Lady in the Dark - Symphonic Nocturne (arr. Robert Russell Bennett)
Bournemouth Symphony Orchestra/Marin Alsop
Naxos 8.557481 74:02
While Marin Alsop is in the midst of a commendable cycle of Brahms symphonies for Naxos as I write this, her greater value may well be her frequent forays into the less-traversed areas of the repertory, like the Weill symphonies here. After all, we're not exactly wanting for good recordings of the Brahms symphonies, but how many previous issues of the Weill symphonies have there been? Janssons and the Berlin Philharmonic have done the Second on EMI, and there have been a few other recordings of this still-neglected work. But I know of no other recordings of the First. Thus, since both of these symphonies are worthwhile creations, this is a most valuable release.
Weill was a sort of early-20th-century European counterpart to Leonard Bernstein, having written both serious and popular compositions, large and small. He is better known for his vocal music, with works like The Three-Penny Opera and his musicals Lady in the Dark and One Touch of Venus. His serious instrumental works have largely been neglected, while his popular music has always attracted attention.
In a way, Weill's style in his symphonies reminds me of Peter Mennin's – it is austere, unsmiling, often violent, especially in the First. Only in the Second's finale are there snatches of humor and playfulness, but those moments are so often laced with muscularity and disruptive harmonies and rhythms, they don't seem to last long. The half-hour Second opens the disc here, and it is probably the better work. It features a dynamic first movement (Sostenuto – Allegro molto), permeated by a fateful four-note motif. There follows a mournful Largo second movement that is, in effect, a funeral march. The Allegro vivace finale is brighter than the preceding movements, but still not exactly a festive celebration. In fact, its most high-spirited moments have more to do with parody (of the Nazis and their goose-step) than with genuine merriment.
The First, with its moments of repose contrasted with rumbling violent outbursts, is interesting, if not thoroughly engrossing throughout. It begins with a motif comprised of violent, mostly descending chords whose eerie, threatening character sends a chill through the listener. Hearing this music, you would never think the composer could have turned out popular Broadway musicals and Cabaret ballads. Lasting about twenty-six minutes, the symphony is cast in one movement, but has three distinct sections. To many listeners, its tough expressive manner and unorthodox structure will pose problems. But repeated listenings should offer ample rewards, especially to those with an adventurous ear.
The performances are certainly committed, the insightful Alsop drawing spirited playing from her Bournemouth players, making them sound competitive with Great Britain's finest orchestras. The fillers, while attractive to those interested in Weill's Broadway side, are a mismatch here: most listeners interested in the symphonies will find this music a confection, often a bombastic confection; those interested in this lighter kind of fare will likely find the symphonies rough going. Naxos' sound is excellent. Recommended.
Copyright © 2005, Robert Cummings