CD Review
Carl Reinecke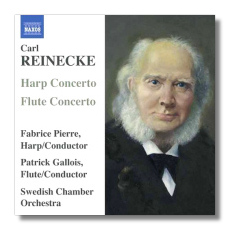 Concertos
Harp Concerto in E minor, Op. 182
Flute Concerto in D Major, Op. 283
Ballade for Flute & Orchestra, Op. 288
Fabrice Pierre, harp
Patrick Gallois, flute
Swedish Chamber Orchestra
Naxos 8.557404 DDD 55:27
If Robert Schumann had written concertos for the flute or harp, they probably would have sounded something like these. German composer Carl Reinecke was born in 1824 in the town of Altona, not far from Hamburg. A pianist and a pedagogue, as well as a prolific composer, he made the rounds throughout much of Europe, and was acquainted with Neils Gade in Denmark, with Franz Liszt in Weimar, and, in Leipzig, with Felix Mendelssohn and Robert and Clara Schumann. He taught Edvard Grieg and Sir Arthur Sullivan, among others, and served as a professor (and later director) at the Leipzig Conservatory. When he died at the age of eighty-five in 1910, the music world was undergoing rapid changes, but the conservative Reinecke was not a firebrand. The Flute Concerto, composed in 1908, is hardly more advanced in style than the Harp Concerto, which was composed in 1884.
That doesn't mean that these works are uninteresting. Anything but, as a matter of fact. Both of them are charming and tuneful – Romantic and robust in spirit. (Even though the Harp Concerto is in a minor key, it is cheerful and purposeful.) Neither loses its appeal after several listens. Reinecke understood both instruments very well. His Flute Sonata (nicknamed "Undine") remains in the repertoire thanks to his idiomatic writing. Reinecke might not have set the world on its ear, but he was an expert musician.
These works have not been over-recorded. Nicanor Zabaleta's recording of the Harp Concerto (DG) is an old favorite, as is Jean-Pierre Rampal's Erato recording of the Flute Concerto. Fabrice Pierre and Patrick Gallois don't need to defer to those old masters, however. Because Reinecke's concertos usually are used as "filler," I don't think these two works have been paired together before. The present CD is self-recommending, then, if it's the repertoire that interests you primarily. Anyway, I feel that both of these soloists are more interested than their predecessors in putting Reinecke's music in the right cultural context. These are stylish readings, devoid of "look what I can do" display for the sake of display, yet not at all lacking in the technical and emotional skills needed to make these concertos work. I also appreciate how Pierre and Gallois conduct each other's works – now that's teamwork! The Swedish Chamber Orchestra, based in the city of Örebro, will make their fellow citizens proud with this CD. The engineering complements the performances, and Keith Anderson's booklet notes are a fine introduction to the composer… as is the CD itself. Don't hesitate: this is a good one!
Copyright © 2006, Raymond Tuttle