Related Links
Recommended Links

Site News
CD Review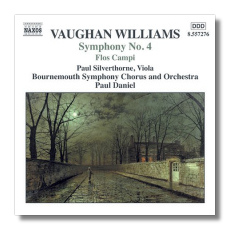 Symphony #4
Flos Campi *
Norfolk Rhapsody #1 in E minor **
* Paul Silverthorne, viola
** Stuart Green, viola
* Bournemouth Symphony Chorus
Bournemouth Symphony Orchestra/Paul Daniel
Naxos 8.557276 62:34
Many consider the Fourth Vaughan Williams' greatest Symphony. Certainly, it comprises, with the Fifth and Sixth, the composer's finest efforts in the genre, though #2 and 7 rise nearly to their lofty heights. In the past we've had some fine recordings of the Fourth, including the Boult/New Philharmonia on EMI, dating to 1967 and the Slatkin/Philharmonia on RCA, from 1991. (The New Philharmonia was a reorganized assemblage of the Philharmonia, which disbanded in 1964; in 1977 the group dropped "New" from their name to return to their old moniker.) While acknowledging strong efforts from Previn and Slatkin, many believe that Boult is unsurpassed in Vaughan Williams' symphonies. Maybe, maybe not.
Paul Daniel, music director of the English National Opera since 1997, turns in an impressive account here that more than challenges the previous standard bearers in this symphony. Listen to his powerful opening, where he catches all the fury, all the rage, all the brilliant orchestral colors. He draws fine playing from the Bournemouth players, too, who may well rise to the virtuosic levels of the Philharmonia under Boult and Slatkin. Daniel's second movement is also good, but the colorful Scherzo and demonic Finale are utterly gripping for their relentless energy and sense of abandon. This is truly inspired music-making!
I have to say this symphony has never sounded better to my ears. The late Sir Adrian Boult and the others will have to step aside for this powerful Fourth, the best version in any price class. But there's more on this Naxos CD: a fine account of the Norfolk Rhapsody #1 is followed by a splendid rendition of the still-underrated Flos Campi. The dark and often ethereal atmosphere of the latter work is brilliantly captured by Daniel. I particularly like the closing section, 'Set me as a seal upon this heart'. Here, in the first half the orchestral playing is angelic, and when the wordless chorus comes in for the latter half, the music rises to ecstatic beauty, to the heavens themselves. The sound is excellent in all works, though the viola may be a tad over-miked in Flos Campi. Need I say that this is an extraordinary release? Urgently recommended!
Copyright © 2005, Robert Cummings