Related Links
Recommended Links

Site News
CD Review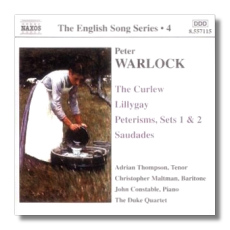 Songs
The Curlew
Lillygay
Peter Warlock's Fancy
Peterisms
My ghostly fader
Bright is the ring of words
Saudades
The cloths of Heaven
The frostbound wood
Bethlehem Down
Sweet and twenty
And wilt thou leave me thus?
Mr. Belloc's Fancy
The bachelor
Away to Twiver
Captain Stratton's Fancy
Adrian Thompson, tenor
Christopher Maltman, baritone
John Constable, piano
Philippa Davies, flute
Christine Pendrill, cor anglais
The Duke Quartet
Naxos 8.557115
This reissue of songs by Philip Heseltine (1894-1930, a.k.a. Peter Warlock) from the Collins English Song Series includes The Curlew (1922) with string quartet and woodwind. On revisiting The Curlew after half a century I found it more beautiful than bleak, not matching my memory of the black desolation conveyed in the first recording on 78s (its emotional impact then was as strong as one's feelings for Delius's bereft sea bird in Beecham's early recording of Sea Drift).
There is a better variety than I had expected in this selection, mostly from the 1920s, even if I have a small resistance to Warlock's hearty drinking songs. The Distracted Maid does not match the intensity of some 17 C. "mad songs", but there are many touching settings and, like Britten later, Warlock had a good eye for poems to set. Two by Bruce Blunt about Mary & Jesus are affecting and Wyatt's "And wilt thou leave me thus" is a persuasive protest against desertion.
Interest in these songs now resides in the elaborately chromatic harmony which was a Warlock speciality, and the balance allows this to be heard clearly. I preferred Christopher Maltman's baritone to Adrian Thompson (tenor), but that is a matter of taste. This is a well recorded and presented anthology and John Constable's imperturbable mastery of Warlock's tricky accompaniments are welcome to those of us who more often see him coping with the latest contemporary challenges in London Sinfonietta concerts.
Copyright © 2003, Peter Grahame Woolf