Related Links
Recommended Links

Site News
CD Review
Symphony #3 "Liturgique"
Symphonic Movement #1 "Pacific 231"
Symphonic Movement #2 "Rugby"
Symphonic Movement #3
Symphonic Poem "Pastorale d'été"
New Zealand Symphony Orchestra/Takuo Yuasa
Naxos 8.555974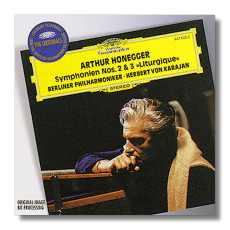 This was a disappointing experience. Given all of the contents I hoped it would be an excellent way to introduce tyros to the music of this great composer. I consider him, along with Martinů, unappreciated by many. Now, let me make something clear, there is nothing really 'bad' here. On the other hand, the excellent is the enemy of the good.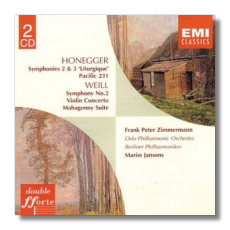 After listening to the symphony the first time I felt the strings were a bit thin and strident. The interpretation left me cold. I wondered if it was just me. I got out Karajan's 1972 recording of Honegger's Symphonies #2 and #3 (coupled with Stravinsky's Concerto for String Orchestra on DGs "The Originals" series 447435-2 Amazon - UK - Germany - Canada - France - Japan ).
Normally I find Karajan too removed from the music he plays. Well, this time I didn't feel that at all. There is no question that Karajan's recording is vastly superior. Karajan has a much better orchestra, which would go without saying except that I just said it. The Berlin Philharmonic has all the richness and deep sound that this music needs. There is more body to the music. Karajan also conveys the feeling that he is much more inside this music than Yuasa. I found myself making notes all over the place as I was moved again and again by this recording.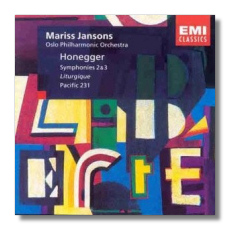 Similar problems exist with the other items on this release. Jansons' recording with the Oslo Philharmonic (EMI 555122-2 Amazon - UK - Germany - Canada - France - Japan ) offers a "Pacific 231" that has the weight and feel of a locomotive where Yuasa's is dwarfed by comparison. (Jansons' recordings of the Symphonies #2 and #3 are currently available on a 2-fer coupled with music by Weill (EMI 575658-2 Amazon - UK - Germany - Canada - France - Japan - ArkivMusic ). At the time I reviewed it I considered it as good as or better than Karajan did.)
So, I am afraid I cannot recommend this even at its low price. For a few bucks more you can get Karajan. I also noticed that Plasson's recordings of all five of the symphonies and "Pacific 231" have been released on the EMI "Gemini" series (585516-2 Amazon - UK - Germany - Canada - France - Japan - ArkivMusic ) for around $11.00. They have excellent sound and are idiomatic.
Copyright © 2004, Robert Stumpf II