CD Review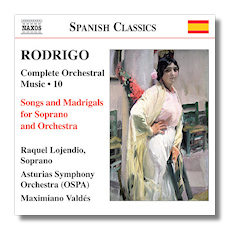 Orchestral Songs & Madrigals
Complete Orchestral Music, Volume 10
Cuatro madrigales amatorios (1948)
Cantos de amor y de guerra (1968)
Triptic de Mossèn Cinto (1936)
Romance del Comendador de Ocaña (1947)
Cuatre cançons en llengua catalana (1935)
Rosaliana (1965)
Cántico de la esposa (1934)
Raquel Lojendio, soprano
Asturias Symphony Orchestra (OSPA)/Maximiano Valdés
Naxos 8.555845 DDD 66:42
Few people regard Rodrigo as a one-work composer any longer, but he continues to be disproportionally represented by just a handful of works. It is safe to say that most people don't know his orchestral songs at all. I was unaware that he had composed any until I saw this CD, which (by the way) is the tenth (!) in Naxos' series of Rodrigo's orchestral works. Take that, "one-work composer"!
This is a genre to which he returned many times. The earliest work here, the Cántico de la esposa (Song of the Bride) was composed for his wife in 1934, shortly after their marriage. In 1968, he composed the Cantos de amor y de guerra (Songs of love and war) for his daughter Cecilia, to celebrate her own fifth wedding anniversary. Not surprisingly, many of these songs are about love, a topic which the texts deal with in a manner that is sometimes passionate, and at other times wryly humorous. Rodrigo, who was blind for most of his life, was attracted to texts that evoked strong visual images, and other sensations. The third of Cuatre cançons en llengua catalana (Four Songs in the Catalan Language) presents a kind of sensory overload of "clear water", "sun and flowers", "hair soaked and fragrant", and "distant melodies" sung "by the river in the forest." Rodrigo's music assists the images in flowing forth with Ravelian profusion. In fact, the spirit of Ravel, never too far from much of Rodrigo's music, seems particularly close in many of these songs.
They are very clearly the composer's work, though. Everything that listeners enjoy about his music – the gently melancholic melodies, the Spanish color, the occasional tang of "wrong-note" harmonies, and the composer's evident enjoyment of life – is present here. The fourth of the Cuatro madrigales amatorios (Four Madrigals of Love) comes from a sound-world very similar to that of the first movement of the Concierto serenata for harp and orchestra, which would be composed four years later (and is in Volume 9 of Naxos' series). That this music is not better known is a shame.
Some of these songs were written for soprano Victoria de los Ángeles, and one can just about imagine her singing them in the mind's ear. Soprano Raquel Lojendio is not Victoria de los Ángeles, of course, but she has some of that soprano's winsome charm. The upper part of her voice is bright and somewhat reedy; the lower part is warm and womanly (not matronly!). It's an interesting sound, and she is responsive to the texts, and to the different moods created by Rodrigo's music. Valdés and the Asturias Symphony Orchestra take a similarly low-key but colorful and sensitive approach.
Texts and translations are not included in the booklet, although they are offered online and can be easily downloaded and printed. This is not a bad compromise to make, to keep Naxos' costs down. One is grateful to them, after all, for continuing to release great music that is off the beaten path, like this.
Copyright © 2008 by Raymond Tuttle