Related Links
Recommended Links

Site News
CD Review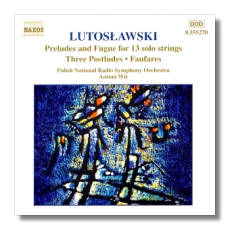 Orchestral Works, Volume 7
3 Postludes for orchestra
7 Préludes and Fugues, for 13 solo strings
Mini Overture for brass quintet
Fanfare for Louisville
Fanfare for CUBE, for brass quintet
Prélude for G.S.M.D., for orchestra
Fanfare for the University of Lancaster, for brass ensemble & side drum
Polish National Symphony Orchestra/Antoni Wit
Naxos 8.555270
It is Witold Lutosławski, not Krzysztof Penderecki, who inherited the East European mantle of Béla Bartók. From his Concerto for Orchestra, a direct tribute to his Hungarian mentor, to the works in this volume, Lutosławski probed the edges of late 20th Century angst and forged a uniquely secular reaction to it. Antoni Wit conducted the previous highly successful volumes in this series, as well as a notable series on Penderecki for Naxos. His barbed and intense renditions of the Three Postludes cling persistently to memory long after playing. The opening bars of Postlude #1 convey a squirmy unease that finds release in the jarring orchestral tutti with its shattering tympani, then settles back down to a tenuous calm. It is a perfect sandwich analog of impending doom, resolution, and more doom that we've all gotten painfully used to these days. In contrast the three short fanfares and the Mini Overture lope about the musical landscape good naturedly, with raucous brass and satiric contrasts.
Similar to Bartók's Divertimento for Strings, Lutosławski's Préludes and Fugue for 13 solo strings is a bleak masterpiece of slurs peppered with pizzicati, low growling bass notes, and other bizarre effects, all offered in the service of irony and forbearance in the face of disaster. Compare these pieces with those on Matrix 22 (EMI 65865), conducted by Lutosławski twenty-four years ago, and you may notice subtle differences. Apart from the analog engineering and less sophisticated miking, the earlier version features more muted effects, particularly notable in the fugue section in Préludes and Fugue.
In Wit's rendition, pianissimo string figures stand out more boldly, like figures in a bas relief sculpture. His glissandi in Postlude #1 are more dramatic, their precipitous falls more wrenching. In some places Lutosławski's approach to his music seems abrupt; for example, when he shifts gears from agitato to lento, there is a corresponding drop in volume that sounds extreme. Wit draws the listener in on the composer's wry and disjointed world, like a personal guide tugging on your sleeve proclaiming, "You have got to see this!"
Copyright © 2002, Peter Bates