CD Review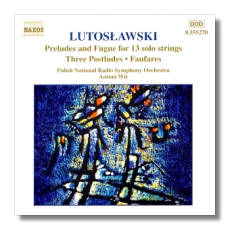 Orchestral Works, Volume 7
3 Postludes for orchestra
7 Préludes and Fugues, for 13 solo strings
Mini Overture for brass quintet
Fanfare for Louisville
Fanfare for CUBE, for brass quintet
Prélude for G.S.M.D., for orchestra
Fanfare for the University of Lancaster, for brass ensemble & side drum
Polish National Symphony Orchestra/Antoni Wit
Naxos 8.555270
This disc, the seventh volume in Naxos' series of orchestral works by Witold Lutosławski, is an interesting collection of odds and ends. Three Postludes was composed between 1958 and 1960, and revised in 1963. In his book A Polish Renaissance, Bernard Jacobson calls this "the composer's most puzzling work" and cites musicologist Ove Nordwall in identifying this work as "a stylistic crisis": the composer's musical ideas had developed faster than his sense of the forms that could best accommodate them. If it's an inconclusive work, it's also an intriguing one, not least for what it anticipates and echoes. The second Postlude, possibly the best of the three, is a clear descendant of the Concerto for Orchestra's second movement, and a forerunner of the Livre pour orchestre.
The (seven) Préludes and Fugue for 13 solo strings (1970-72) demonstrate that Lutosławski's mastery of form eventually caught up with the creativity of his ideas. As in many of his works, controlled aleatoric passages lend tension and mystery to the music. The seven Préludes are in contrasting styles, and they highlight the variety of timbres available to the string instruments. At 16 minutes, the dramatic, atmospheric Fugue (which is hardly a fugue at all, in the strict sense of the word) accounts for almost half of the work's total length.
The rest of the works are occasional pieces written for the Louisville Orchestra (Fanfare for Louisville), the Cambridge University Brass Quintet (Fanfare for CUBE), the Guildhall School of Music and Drama (Prélude for G.S.M.D.), the Philip Jones Brass Ensemble (Mini Overture) and the University of Lancaster (Fanfare for the University of Lancaster). Fanfare for CUBE is as short as 28 seconds, and the Mini Overture is as long as 3:09! There's nothing crucial here, but these works show how inventive Lutosławski could be, even when he was limited by length.
As with earlier discs in this series, Wit and the Polish National Radio Symphony give first-class performances, and Naxos' engineering is very satisfactory. (The Three Postludes were recorded as early as 1996.) Richard Whitehouse's booklet notes are informative, and anything but superficial.
Copyright © 2002, Ray Tuttle