Related Links
Recommended Links

Site News
CD Review
Kennedy Plays Bach
Concerto for Violin #1 in A minor, BWV 1041
Concerto for Violin #2 in E Major, BWV 1042
Concerto for 2 Violins in D minor, BWV 1043
Concerto for Oboe and Violin in C minor, BWV 1060
Kennedy, violin
Albrecht Mayer, oboe
Daniel Stabrawa, violin
Berlin Philharmonic
EMI 57091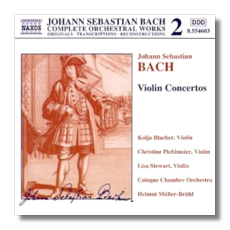 Complete Orchestral Works
Volume 2 - Violin Concertos
Concerto for Violin #1 in A minor, BWV 1041
Concerto for Violin #2 in E Major, BWV 1042
Concerto for 2 Violins in D minor, BWV 1043
Concerto for Violin in D minor, BWV 1052
Kolja Blacher, Christine Pichlmeier & Lisa Stewart, violins
Cologne Chamber Orchestra/Helmut Müller-Brühl
Naxos 54603
Wow! That was a favorite saying around 1973. I remember my students, I taught sophomore and senior English at an upper-middle class community, would utter this word such that it had four syllables. I kept muttering, "This, too shall pass." It did. Still, that "phrase" captures the essence of my response to this disc.
There is no mention, in the insert notes, who is conducting the Berlin Phil, in fact the insert doesn't even give the timings for the works either as a whole or in movements. Whoever it is (and I am guessing it is Kennedy) must love Stokowski. What you will hear is a performance and recording that is not unlike "The Stokowski Sound". Deep, rich and firm bass line, smooth strings and lushness around. The soloists are as romantic. The second movement of the double concerto is a love duet. It has a beauty that literally arrests you.
Now, you simply must purchase this recording. It is just too beautiful not to hear. Also you need to purchase a recording in the more historically informed category. I'd recommend the Naxos recording. The playing there is very good and there is feeling in the playing. For some reason it feels more earthy than does Kennedy's. Compare, however, the second movement of the two-violin concerto with Kennedy's. The few minutes this will take you will, better than any words I could ever summon, teach you what "romantic" playing means and how it differs from "historically informed". I can imagine myself pulling out the Naxos recording on occasion but I know which one I will turn to most often.
I have to admit, however, that his decision to change his name to "Kennedy" is decadent and reminds me of Sting or Cher. I am not sure if this is a good or a bad thing, but I find it pretentious. Sorry about that.
Copyright © 2001, Robert Stumpf II