Related Links
Recommended Links

Site News
CD Review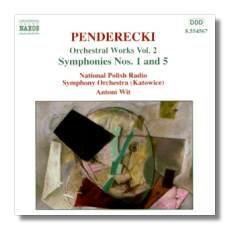 Orchestral Works, Volume 2
National Polish Radio Symphony Orchestra/Antoni Wit
Naxos 8.554567
It was a good idea to have these two symphonies facing each other in this CD, if for no other reason than contrast: the unpredictable (and witty) Symphony #1 with the brooding haunted Symphony #5. In Penderecki's case, dynamic contrast is one of the hallmarks of his style. The one-movement Symphony #5 ends on a note of furious agitation, having started in a state of dread and perused themes of tenuous resignation and burgeoning need. In this largely tonal work, the composer's use of percussion is exemplary but not excessive, just enough to shake listeners out of the caverns of rumination he plunges them in. During one adagio segment, solemn bells signal an ominous invasion, which soon occurs: strings swoop down like winged demons from a Gustave Doré print – several times. Such shock tactics spawn more crises and more furtive withdrawals. Not for long can this music soothe us. Like the Baroque masters, Penderecki wants us to ingest this music, not just notice it.
From its opening snaps and ratchetings, Symphony #1 is more playful than its descendant, a modernist playground of quirky effects and quasi-themes. More historical document than earth-shattering work, it still has power to amuse with violins' insect buzzings and temple blocks that sound like lurking skeletons. (Penderecki returns later to the skeleton theme in his choral Symphony #7, "Seven Gates of Jerusalem.") Throughout the work, Penderecki consistently astounds and impresses the listener with his sonic inventions, such as strings that sound like Doppler effects from a speeding vehicle. There is a sense that he doesn't take this chaos too seriously, but can't resist showing the listener a good time, a musical equivalent of a carnival dark ride rather than a roller coaster.
Antoni Wit's performance of both symphonies is creative and intriguing and doesn't flag for a second. His interpretation of Symphony #1 is more puckish than Penderecki's own (EMI 65416 27). With this consistently high-quality set form Naxos, it is not hard to see why Penderecki remains one of our foremost living composers.
Copyright © 2001, Peter Bates