CD Review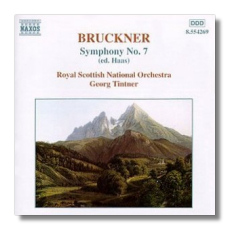 Symphony #7 in E Major (ed. Haas)
Royal Scottish National Orchestra/Georg Tintner
Naxos 8.554269
I am just now listening to the opening of this recording. Some deer are grazing on the spring stubble along the hill I live upon. Life is green again. As I have said before, I live in the perfect house in which to listen to Bruckner. Like Spring, this music emerges from life.
A recent comment in the classical forum that I scan posed the question, "Is there anyone who thinks that some of Bruckner's elemental big tunes border on the banal?" Banal… it is one of those words, like time, that I know what it means until I have to tell someone what it means. I also know that it has negative connotations. I also recall a wag commenting that Bruckner didn't write nine symphonies, he wrote one symphony nine times. I mention this because there was a time I found Bruckner boring. As I mentioned to Mr. Tintner, however, it seems that it is easy to do Bruckner poorly. Prior to getting this disc, my only stereo version of the 7th was the highly praised Chailly recording (London 414290, no longer available so far as I know). This Tintner disc makes the music seem new to my ears: it was exciting, alive, majestic. I wondered if the Chailly compared at all and why I hadn't listened to it in a coon's age. Well the answer is simple.
Tintner is far superior to the Chailly recording with the Radio Symphony Berlin. Listen to how each conductor approaches the climax at around 5 minutes into the first movement. Tintner has me riveted, the sudden denouement is absolutely drenching. Chailly's interpretation is flat. Also, the Naxos sound is far superior to London's and the orchestra is better, the strings in particular are richer. From the very opening bars, the Naxos recording has me drawn into Bruckner's sound world. It is little wonder that I hadn't realized how great this music is until I heard Tintner. I do have Furtwängler's inspirational account when he was on tour in Rome with the Berlin Philharmonic Orchestra in 1951. That, however, is marred by not-so-good sound (Music and Arts 698).
That third theme is one of the most interesting pieces of music I have ever heard. It comes as a complete surprise at first. Even on repeated listenings, when I am "listening for" it I am still delighted. Banal? Never! In fact, the whole symphony is another masterpiece and this recording is another gem in the crown of this emerging cycle. I know of no better recording of the 7th. The second movement brings tears to my eyes. I read Steinberg's commentary in his book The Symphony and strongly recommend you do the same. What an experience. I now have listened to it countless times. One evening, after having 'put to bed' this review, I picked out this disc to listen to just for the pleasure of the experience.
Listening to this recording is like looking into God's mind.* In a world so screwed up as ours, we need moments to listen to music like this.
* With thanks to Stephen Hawking for the analogy.
Copyright © 1999, Robert Stumpf II