Related Links
Recommended Links

Site News
CD Review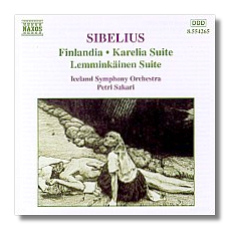 Legends
Finlandia Op. 26 (1899, rev. 1900)
Karelia Suite Op. 11 (1893)
Lemminkäinen Suite, Op. 22 (1895) (Four Legends from the "Kalevala")
Dao Kolbeinsson, cor anglias
Richard Tchaikovsky, cello
Iceland Symphony Orchestra/Petri Sakari
Naxos 8.554265
Okay, this disc has grown on me. My initial impression was negative. Then I wondered if I am just "off" Sibelius for awhile. So, I listened to Ormandy's last recording of the Lemminkäinen. Then back to the Naxos recording. This went on over several days. I liked the Iceland performance for its leaner, chamber music atmosphere. Details and solos are wonderful. In fact the soloists top those from Philadelphia in milking out every ounce of emotion. The cor anglias sounds more plaintive, and is slightly slower, allowing Dao to explore the soundscape.
As for the "Swan", however, I made the mistake (?) of playing Stokowski's last recording of it on Sony. Mien Gott!! The pathos is so much deeper here. It sounds slower but it is actually over a minute faster than Ormandy or Sakari. What Stokowski does is weave a spell and find music in the score that eludes both other conductors. The soloists are even finer with Stokowski than either of the other discs. If we had a complete Lemminkäinen from Stokowski this review would be over. As it is…
Okay, we need to reach some kind of termination here. The Ormandy is not currently in the catalogue. Even if it was I think I would recommend the Naxos disc over that one. The Naxos offers additional items, one of which is probably a very good Finlandia (I never could stand the music, the main theme was the one used in my high school alma mater). The Karlia Suite is excellent. As is the norm for Naxos, the sound is excellent and they have found a wonderful woodwind section. I am happy to see that they credited the two soloists; they deserve it. Recommended without reservations… well, sort of.
An afterthought. Naxos has taken to offering a brief bio and commentary on the music contained in the discs. It is located on the back of the jewel case. It is superficial, but what do you expect in the space allowed? I don't see the majors offering any parallel attempts to educate the listeners. I also love the cover art. Klaus consistently finds cover art that captures the essence of the music within. I'm not sure how he goes about this, but someone needs to be thanked.
You really ought to add this Naxos disc to your collection.
Copyright © 2000, Robert Stumpf II