Related Links
Recommended Links

Site News
CD Review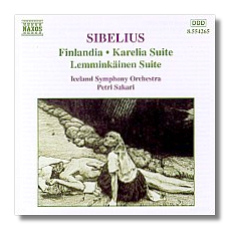 Legends
Finlandia, Op. 26 (1899)
Suite "Karelia", Op. 11 (1893)
Lemminkäinen Suite, Op. 22 (1895) (Four Legends from the "Kalevala")
Dao Kolbeinsson, cor anglias
Richard Tchaikovsky, cello
Iceland Symphony Orchestra/Petri Sakari
Naxos 8.554265 DDD 72:50
Iceland is the home of volcanic flow and fine Sibelius-playing - is there a connection between those two activities? Sakari and his orchestra already have excited international attention with their recordings of Symphonies #1 and 3 (8.554102) and #2 (8.554266), and this new release deserves to receive the same kind of praise.
What can you do with these works, particularly Finlandia, that hasn't already been done? While Sakari does nothing freakish, his interpretations are sufficiently different to justify their being made available at any price. He is an unusally responsive conductor, sensitive to the music's currents and eddies. There's nothing stiff or stodgy about his Sibelius. Finlandia begins with grim defiance (the Icelandic brass really have character here) but the first fast section goes at a galvanizing tempo, and when Sakari comes to the Big Tune, the orchestra plays it with intense patriotic fervor - one can almost hear a crowd of men, women, and children singing it with a catch in their throats. The outer movements of Karelia are jaunty; Sakari's emphasis of the strong beats gives the music a masculine, natural swing. Sakari's flexible phrasing brings out the vocal quality of the "Ballade".
Unusually, Sakari observes the original order of movements in the Lemminkäinen Suite: "Lemminkäinen in Tuonela" comes second and "The Swan of Tuonela" is third. I suspect that the LP era encouraged the opposite, revised order because of concerns about side-length, but of course no such considerations arise with the CD. While the Icelandic strings won't be mistaken for Philadelphian ones (Eugene Ormandy and the Philadelphia Orchestra made an indelible impression in this suite), there's no question that this music is in the blood of the musicians. Sakari generates nail-biting tension in "Lemminkäinen and the Maidens of Saari," especially when Sibelius "torments" the listener for minutes at a time by withholding a harmonic resolution. The English horn (Dao Kolbeinsson) and cello (Richard Tchaikovsky) soloists shine in the interior movements, and "Lemminkäinen's Return" is an occasion for wild excitement. Throughout the suite, and also throughout this disc, the playing is polished without being overly refined - a fine state of affairs for this repertoire - and Sakari is consistently imaginative. Sonically, this CD scores points too, and credit must be given to Naxos' team of engineers, and also to veteran producer Paul Myers. With Naxos practically giving this CD away, it would be a mistake not to give it a try. I think you'll be mightily impressed.
Copyright © 1999, Raymond Tuttle