CD Review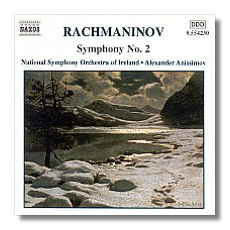 Symphony #2
Symphony #2 in E minor, Op. 27
National Symphony Orchestra of Ireland/Alexander Anissimov
Naxos 8.554230

Symphony #2 in E minor, Op. 27
Vocalise Op. 34, #14
Aleko
Intermezzo
Women's Dance
London Symphony Orchestra/André Previn
EMI 66997

Symphony #2 in E minor, Op. 27
Vocalise Op. 34, #14
Cincinnati Symphony Orchestra/Jesús López-Cobos
Telarc CD-80543 DDD 65:47
Okay, what we have here is a lesson. I suggest you purchase at least the first two recordings listed and would argue that the third is no slouch. Rather, what we have here is an example where the excellent is the enemy of the very good. Listening to the opening of both Previn's and Anissimov's I wrote down, "Damn, how does he do that???" In both cases the conductor lets you know within 30 seconds that this will be an emotional experience.
I requested a listen to the Naxos release mainly because I wondered how they could compare with Previn and the London Symphony on the GROC series release. That recording is deep, rich with the bass reverberating through you. Previn's strings ache, are poignant, make me want to cry. How could???
Well, they do in spades. In fact, my first reaction was to note that I thought this might be the best recording I have heard, even considering my allegiance to Previn and Stokowski.* The Irish Symphony doesn't sound as large as the London Symphony and there isn't the rich bass line underpinning the work. On the other hand, there is more inner detail and lovely woodwinds (as is the norm with all Naxos recordings… it's almost a trademark). I am not going to pretend that I have a score at hand, all I can say is that my notes remark about details at almost every minute of the recording.
Then, however, is Previn in the latest GROC issue. I am not sure what they are doing there with this process, but I love the results. The CDs sound as warm and detailed as the LPs did so far as my personal experience will allow. I had heard about this recording but actually never heard it before now. I had about given up on finding a stereo recording that moved me as much as Stokowski's live broadcast with the Hollywood Bowl Symphony.* Previn, however, with an English orchestra brought this music to life for me. It now had the soul and passion I heard in Stokowski* (okay, I admit I am doing this to be irritating… works, doesn't it?) So, I am back to "how the hell does he do that???" The point is that the Naxos release joins Previn's on EMI as the top two recordings I know of this piece of music.**
While there are differences, they only add to the reasons for having more than one instance of the concept. At one time I noted that listening to the Anissimov recording was like emotionally watching "Dr. Zhivago" while listening to the Previn was like being in the movie. I am not so sure what the hell that means, so. Most importantly, the word that best describes both the Naxos and EMI recording is: involving. I can walk out of the room for a minute or so, while either of those recordings is playing, and find myself "arrested" at the moment, emotion stirring inside me. I want to sit down and listen. This is not the case in the next instance.
The Telarc release was a disappointment. I have heard good things about the Cincinnati Symphony, mostly from Don Vroon, and I must admit this is one beautiful recording and performance. It may be a case where the excellent is the enemy of the very good, and López-Cobos is very good. Still, it is like beauty sans passion, there is no inner tension. It is just as beautiful as a china doll and just as inanimate.
You may have noticed that I have not mentioned the couplings. Well, nobody does the Vocalise better than Stokowski (especially coupled with the Third Symphony on EMI 566759) and the Aleka music is little more than icing on a cake. You want these recordings for the main dish
Given the price of my top two recommendations, you really ought to have another recording for educational purposes.** I wanted the Cincinnati recording to be par excellence, it was Stokowski's first orchestra, and while in practical terms that means squat, it would have been nice if they had been able to deliver the kind of performance Stokowski would have provided. Still, you do need a third instance of a concept in order to make sure you have conceptualized Rachmaninoff's 2nd Symphony.
* In 1983 I founded the Leopold Stokowski Society of America. Our very first LP release was Stokowski's live performance with the Hollywood Bowl Symphony in 1946. I listened to tapes of this work over and over and over. It got to the point that I couldn't listen to the work for a long time. The main problem with the CD issues of this recording is that they are not correctly pitched. I heard the tape and know that what I was sent was pitched correctly. What was issued was not from the same tape. I was hoodwinked. Anyway, Stokowski's is passionate. The Rachmaninoff 2nd was also the piece he planned to record the day he died at age 95+. That last bit of information was the main reason I wanted to issue that performance. I hope we can get a properly pitched mastering. It also needs to have work done to make sure the orchestra doesn't sound like a bunch of kazoos. Most of the HBoston Symphony Orchestra issues are guilty of that sound. Dutton has done well and I will make an appeal.
** In the course of writing this essay I listened to several others. I had on hand: Gergiev on Philips, Pletnev on DG and Janssons on EMI. Only Janssons comes close to the passion needed for this symphony. Rachmaninoff's 2nd must, must be romantically played or else the whole reason for being is lost. Of the four digital recordings I have heard the best performance and recording is Anissimov on Naxos.
Copyright © 2001, Robert Stumpf II