CD Review
Elgar & Bax
Enigma Variations, Op. 36
In The South, Op. 50
Coronation March, Op. 65
Bournemouth Symphony Orchestra/George Hurst
Naxos 8.553564 DDD 58:47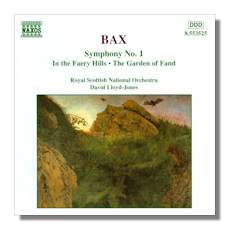 In the Faery Hills
The Garden of Fand
Symphony #1 in E Flat Major
Royal Scottish National Orchestra/David Lloyd-Jones
Naxos 8.553525 DDD 64:05
Two British composers, one well known, the other little known, both outcasts, of sorts: Edward Elgar (1857-1934) was a Roman Catholic living under rule dominated by the Church of England, and Sir Arnold Bax (1883-1953) loved Ireland, its culture and people – a people historically at odds with the colonial-minded British. The two composers are certainly not stylistically dissimilar, both employing rich harmonies and orchestration, at times in the thrall of Richard Strauss. But Elgar sounds more typically British (or what we've come to hear as "typically British", partly because of his music), while Bax's music can sound ethereal, almost Debussyan, as in the tone poems under review here, and can elicit Rachmaninoff (in the symphony), while admittedly showing the definite – and very British – influences of Holst and Vaughan Williams. However one views this pair, it can safely be said that each, despite whatever influences can be discerned, created his own rather distinctive voice.
For those who may not know what the "Enigma" in the title of Elgar's great work refers to, it pertains to a second or counter-theme in the piece – a theme which is never heard. If it is unheard, you ask, how can it be in the work? Well, that's part of the enigma; bear in mind, though, that it may be musically implied somewhere in the score. Elgar revealed his secret to three people, all of whom took it with them to the grave. So we can only speculate about the source of the mystery. One theory has it that since each variation describes a friend of Elgar (or love – his wife is depicted in the first), the second theme is a non-musical one, that of friendship. Who knows? In any event, the work is a masterpiece, easily among the greatest theme-and-variation works ever written for orchestra.
George Hurst and his Bournemouth players certainly impart a vigor and passion to this work. They quite ably fight for elbow room in a crowded field and will attract attention, especially considering Naxos' low price. I must confess I have a fondness for the Monteux/LSO recording from 1958, though, recently re-released by London, coupled with an excellent Karajan rendition of The Planets. I do wish Hurst's reading of the Nimrod variation – let's face it, the emotional centerpiece in this work – had been a little less pushy near the end, and the ensuing Dorabella, less urgent. The seventh variation (Troyte) is powerful and spirited and the twelfth (B.G.N.) is beautifully rendered. Despite the noted reservations, this is an impressive effort, the orchestra actually sounding quite in the league with England's best. The other two works, In The South, a substantial piece in its own right, and the Coronation March, are rendered with the same commitment and musical acumen. The sound is a little distant but decent enough. Keith Anderson's notes are full of pertinent information and insights.
Bax's First Symphony doesn't sound like a first symphony. Its orchestration is sure-handed, its expressive language mature, and its elements of tragedy (some hear the darker moments in the piece as depictions of the First World War and the Easter Uprising of 1916 in Ireland) hardly sounding like the outpourings of a man still in his thirties. Yet there is a fresh quality to the work, too, a sense of joy in the triumph of the ending, and a perhaps slightly naïve spirit of universality and peace. It's ultimately an uplifting work, structurally well conceived, and dominated by a trenchant, rather powerfully evocative five-note motto of militaristic aspect, that expands to yield sadness and frustration, conflict and violence, and finally triumph. The orchestration, as earlier suggested, is colorful and masterfully fashioned. All in all, this is a magnificent work, perhaps even a masterpiece. I'd have to spend more time with it to bequeath that hallowed status upon it.
The two shorter works are both inspired by Irish legend. The pair ought to be better known: they are light, thematically and rhythmically appealing, and, if they don't quite sound Irish, they certainly are colorful and quite atmospheric. David Lloyd-Jones and his Glasgow-based group render the three works here with deft insight and plenty of spirit, capturing that craggy, post-Romantic, at times quasi-impressionist Baxian idiom to near perfection. Naxos provides powerful, clear sound, and, once again, Keith Anderson supplies splendidly informative, copious notes.
Copyright © 1999 Robert Cummings